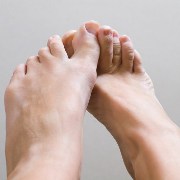 Photo: Getty Images
Infections of the toenail generally occur because of an ingrown toenail (onychocryptosis), infection around the skin of the nail (paronychia) or onychomycosis (fungal infection of the toenail). According to the U.S. National Library of Medicine, paronychia can occur around your fingernails as well as your toenails.
Toenail infections can last several weeks. However, if the toenail suffers from a fungal infection, it can take months for the nail to grow properly.
Symptoms of an ingrown toenail infection and infection around the nail include:
• Pain
• Redness
• Inflammation
• Pus
If you have an ingrown toenail, medical experts recommend soaking your toenail in hot water 2-4 times per day.
According to the American Academy of Family Physicians, ʺanyone can get a fungal nail infection, but these infections are more common in adults older than 60 years of age. They are especially common in people who have diabetes or circulation problems. Men are more likely than women to get fungal nail infections.ʺ
Symptoms of a fungal infection of the toenail (onychomycosis) include:
• Minor pain or discomfort in the area
• Toenail becomes discolored (usually white or yellow)
• Toenail is brittle, crumbly or has rough edges
• Toenail separates from the nail bed
• Toenail may be distorted in shape (curled up or down)
How to prevent toenail infections:
• Trim the toenails about once a month
• Do not bite or pick toenails
• Care for your toenails and the skin around the nails properly
• Bring your own pedicure tools to nail salons
• Use sharp pedicure/manicure scissors or clippers for trimming
toenails and an emery board for smoothing the edges.
• Trim toenails after bathing, when they are softer.
• Trim toenails straight across and don't cut them too short.
• Do not trim cuticles. Trimming the cuticle damages the skin at the
base of the nail and allows an entry point for fungi (and bacteria), which can lead to infection.
• Do not use cuticle removers. Cuticle removers may damage the skin
around the nail.
Treatment can vary depending on the type of toenail ailment. Your doctor may prescribe a 6 - 12 week antifungal medicine and/or a topical antifungal ointment. Also, depending on the type of ailment, your doctor may remove the toenail.
If you have a fungal nail infection, keep the nail dry and do not use the same tools to file or cut your other healthy nails.
Also, ePodiatry.com recommends that ʺthose with poor circulation or diabetes should not do any self management of ingrown toenails but see a Podiatrist.ʺ You can also contact your primary health care provider for recommended toenail management.
References:
Ingrown Toe Nail (onychocryptosis). ePodiatry. Retrieved January 5,
2012, from www.epodiatry.com/ingrown_nails.htm
Managing infected ingrown toenails. National Center for Biotechnology
Information. Retrieved January 5, 2012, from
http://www.ncbi.nlm.nih.gov/pmc/articles/PMC1472971
Nail Fungal Infections | Overview -- FamilyDoctor.org. Health
Education | Illnesses, Diseases & Conditions -- FamilyDoctor.org.
Retrieved January 5, 2012, from
http://familydoctor.org/familydoctor/en/diseases-conditions/nail-fungal-...
Paronychia - PubMed Health. National Center for Biotechnology
Information. Retrieved January 5, 2012, from
http://www.ncbi.nlm.nih.gov/pubmedhealth/PMH0002416
Reviewed January 5, 2012
by Michele Blacksberg RN
Edited by Jody Smith
Tags: