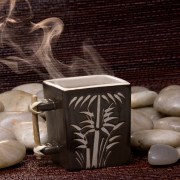 Photo: Getty Images
The influenza virus is the most important cause of respiratory infections worldwide, according to Dr. Keiji Matsumoto and colleagues at the University of Shizuoka, Japan. Vaccinations (flu shots) are effective at preventing many cases of the flu, but so far we do not have vaccines that cover every possible strain of the virus. "Therefore," Matsumoto reported, "it is important to find other ways to reduce the prevalence of influenza infection."
Tea consumption is associated with a number of health benefits. Dr. Chung S. Yang of The State University of New Jersey and colleagues reported on the antioxidative and anti-carcinogenic properties of tea constituents. Green tea accounts for 20 percent of world tea consumption. It is produced by pan-frying or steaming the leaves of Camellia sinensis, to inactivate an enzyme called polyphenol oxidase. This process preserves the molecules epigallocatechin-3-gallate (EGCG), epigallocatechin (EGC), epicatechin-3-gallate (ECG), and epicatechin (EC), which are collectively called catechins and are powerful antioxidants. A typical cup of green tea contains approximately 200 to 300 mg of catechins. Black tea accounts for 78 percent of world tea consumption. It is produced from leaves of the same plant, but prepared by a different process that causes oxidation and polymerization of the catechins.
Matsumoto and colleagues performed a randomized, placebo-controlled study of the effects of green tea catechins plus theanine, another tea component, on healthcare workers exposed to the influenza virus. The study included 98 workers assigned to the catechin/theanine group, and 99 assigned to the placebo group. All worked with elderly patients, and 92.9 percent were vaccinated against influenza. The catechins and theanine were supplied in capsules that provided a 378 mg catechins and 210 mg theanine per day. The time period of the study was November 2009 to April 2010.
The catechin/theanine group had significantly fewer cases of flu than the placebo group. Flu was diagnosed as fever plus any two of the following symptoms: cough, sore throat, headache, muscle aches. The placebo group had 13 cases of the flu, while the catechin/theanine group had only four. Both groups had relatively mild symptoms, which did not differ significantly between groups.
Green tea has been consumed for centuries with no adverse effects. Matsumoto suggested that green tea may be an effective way to reduce the number of flu cases, and recommended further large-scale trials.
References:
1. Matsumoto K et al, "Effects of green tea catechins and theanine on preventing influenza infection among healthcare workers: A randomized controlled trial", BMC Complementary and Alternative Medicine 2011; 11:15. http://www.ncbi.nlm.nih.gov/pubmed/21338496
2. Yang CS et al, "Antioxidative and anti-carcinogenic activities of tea polyphenols", Arch Toxicol. 2009 January; 83(1): 11. http://www.ncbi.nlm.nih.gov/pubmed/19002670
Reviewed August 17, 2011
by Michele Blacksberg R.N.
Edited by Jody Smith
Linda Fugate is a scientist and writer in Austin, Texas. She has a Ph.D. in Physics and an M.S. in Macromolecular Science and Engineering. Her background includes academic and industrial research in materials science. She currently writes song lyrics and health articles.
Tags: