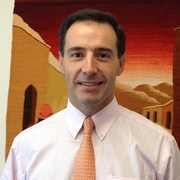 Photo Courtesy of Dr. Picone
October marks the beginning of the flu season. If you have the flu, you may have symptoms such as fatigue, muscle aches, cough, sore throat and stuffy nose.
You can prevent the flu by getting the annual flu vaccination. But while the Centers for Disease Control and Prevention recommend that everyone ages 6 months and older should get the vaccine, only a fraction do.
Getting the word out about the importance of the flu vaccination and alternatives to the traditional vaccine, such as the Fluzone Intradermal vaccine, is why NCIS Los Angeles actor Chris O'Donnell has partnered with Sanofi Pasteur.
He and Carlos E. Picone, M.D., F.C.C.P., Vice-Chair of the Department of Internal Medicine at Sibley Memorial Hospital in Washington, D.C., talked to EmpowHER about the importance of getting the flu vaccination, the Fluzone Intradermal vaccine, as well as Chris and his work with AmeriCares.
EmpowHER:
Why is it so important for people to get the flu vaccine?
Dr. Picone:
As a physician, I have seen first-hand how serious influenza can be, and know that it can lead to severe complications and even death, which is why vaccination is so important. Each year, one in five people gets the flu and an estimated 226,000 people are hospitalized from influenza-related complications.
EmpowHER:
Why do people not get the vaccine?
Dr. Picone:
Public health officials recommend everyone six months of age and older receive an annual influenza vaccination, yet on average, only a third of adults in the U.S. 18 through 64 years of age are immunized.
Results from a recent telephone survey revealed these low rates highlight a disconnect between fear and action, as two out of every three in this age group said if they had influenza, they fear spreading the virus to their loved ones, yet three in five adults said they are not vaccinated annually.
EmpowHER:
Why did you decide to team up with Sanofi Pasteur to promote flu vaccination?
Chris O'Donnell:
Getting vaccinated is the single most important thing adults can do to help prevent getting or spreading the flu. However, many adults remain unprotected from this serious disease.
I have joined Sanofi Pasteur to help raise awareness about vaccine options available for adults, like Fluzone Intradermal vaccine, in hope that more adults will take action and help protect themselves from influenza.
EmpowHER:
What is different about the intradermal shot?
Dr. Picone:
I am always interested in ways to help make the flu shot experience a better one for adult patients, so that more will seek annual vaccination.
Adults should be aware that alternate options are available for their annual flu shot, including Fluzone Intradermal vaccine. The device has a 90 percent smaller needle that goes just under the skin to help provide adults with the flu protection they need.
EmpowHER:
Why did you choose to get the Fluzone Intradermal vaccine, instead of the regular flu shot?
Chris O'Donnell:
Living in a household with five kids, I understand the importance of getting my flu shot. When my doctor and I talked this year about what may make my experience a good one, we determined Fluzone Intradermal vaccine was the best option for me. The device has a needle smaller than a grain of rice, which for me, made a big difference.
EmpowHER:
Tell me about your work with AmeriCares and the flu vaccine.
Chris O'Donnell:
The flu is a serious disease that doesn't discriminate, which is why all adults need to get their flu shot every year. As part of my work with Sanofi Pasteur, they have donated flu vaccine to AmeriCares in an effort to help reach underserved groups, so more adults have access to the flu protection they need.
To find out more information about the Fluzone Intradermal vaccine, visit http://fluzone.com/
References
Interview with Chris O'Donnell. Email. 18 October 2012.
Interview with Carlos E. Picone, M.D. Email. 18 October 2012.
PR Newswire. Sanofi Pasteur and Actor Chris O'Donnell Launch Fluzone Intradermal (Influenza Virus Vaccine) VacciNational Tour to Raise Awareness About Importance of Annual Flu Shot and Vaccine Options for Adults. Web. 24 October 2012
http://www.multivu.com/mnr/57037-sanofi-pasteur-chris-o-donnell-fluzone-intradermal-influenza-virus-vaccine
Centers for Disease Control and Prevention. Seasonal Influenza (Flu). Web. 24 October 2012
http://www.cdc.gov/flu
Centers for Disease Control and Prevention. Key Facts about Influenza (Flu) and Flu Vaccine. Web. 24 October 2012
http://www.cdc.gov/flu/keyfacts.htm
Reviewed October 24, 2012
by Michele Blacksberg RN
Edited by Jody Smith
Tags: