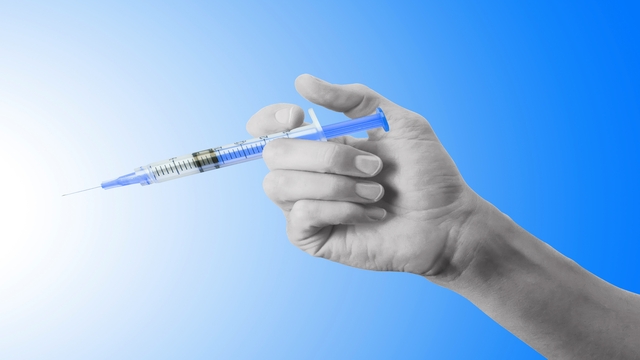 Wolfe Larry/PhotoSpin
Your kids' schools or your health care provider may be asking you about now if you'd like to take the flu vaccine for the upcoming 2013-2014 winter season. Maybe you are worried about side effects or whether it will actually work.
Last year I got the flu vaccination (via the mist that's supposed to be slightly more effective than the shot) for the first time in seven years. And lo and behold, I got influenza, then got it again, causing me to be either bed-ridden or in recovery for a total of six weeks.
The last time I got it seven years ago saw the flu hit me hard too. It must have been a strain that wasn't covered in my vaccination, I was told.
So I wondered why get it in the first place, since there are so many strains out there and only a few are covered in the vaccination.
But now some news has emerged that may give unlucky people like me some hope. CBSNews reports that a universal flu vaccine may come within the next five years, that researchers hope will protect against all strains of influenza.
With new strains emerging on a frequent basis, this could be the one shot that will prevent pandemics such as that of 2009. And it's due to that particular year that scientists have found something in the antibodies of those who were not afflicted with the flu in 2009.
Along with his colleagues, Professor Ajit Lalvani, chair of infectious diseases at the National Heart and Lung Institute at Imperial College London, took blood samples of several hundred volunteers during that "swine flu" time where more than 18,000 died that year from the virus.
Those who felt ill were swabbed and checked to see if they had contracted flu and those who had no symptoms were also checked. The latter group were found to have cells called CD8 T cells that are capable of fighting off strains of flu that others cannot.
Researchers want to take those cells and add them into a universal vaccine, believing this will boost everybody's immune system and keep the flu at bay. But Professor Lalvani has reported that more research, testing and approval will cause the vaccination to be about five years away.
According to the Centers for Disease Control and Prevention (CDC), between 5-20 percent of Americans will get the seasonal flu every year. Somewhere between 3,000 to almost 50,000 people in America will die of the virus every year. Very young children, the elderly and those with compromised immune systems are at higher risk.
In an epidemic, the flu is sometimes unavoidable , even for the most healthy of people. But there are ways to help avoid it.
EmpowHER expert Dr. Daemon Jones advises:
- Washing your hands frequently
- Staying at home if you're sick so you don't pass your germs to others
- Covering your mouth with a tissue not your hands when you cough
- Drinking plenty of water
- Getting plenty of rest
- Taking naps and going to bed early
- Avoiding stressful situations, both emotional and physical
https://www.empowher.com/influenza/content/flu-prevention?page=0,1
She also recommended eating a fresh, healthy diet.
Flu shots are offered for as little as $20 and are covered by many insurance policies.
Tell Us
Do you get an annual flu shot? Why or why not?
Sources:
ABCNews. Health.
http://www.cbsnews.com/8301-204_162-57604170/universal-flu-vaccine-may-b...
Center for Disease Control and Prevention. Seasonal Influenza Questions and Answers. Web. Retrieved September 25, 2013.
http://www.cdc.gov/flu/about/qa/disease.htm
EmpowHER.com. Lung Conditions. Influenza. Flu Prevention. Web. Retrieved September 25, 2013. Web. Retrieved September 25, 2013.
https://www.empowher.com/influenza/content/flu-prevention?page=0,1
Reviewed September 25, 2013
by Michele Blacksberg RN
Edited by Jody Smith