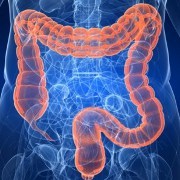 Hemera/Thinkstock
There's no denying that serving overseas in the armed forces can sometimes have lasting physical, mental and emotional repercussions. One of the recent national health focuses for returning soldiers has been increasing reports of irritable bowel syndrome, possibly related to service in Iraq or Afghanistan.
The International Foundation for Functional Gastrointestinal Disorders (IFFGD) is bringing attention to GI disorders among veterans during April, which is IBS Awareness Month. The concern is that men and women returning from war might be otherwise healthy, yet are having serious digestive issues.
"These issues began during deployment and then continue long after they (soldiers) have returned home," said Nancy Norton, president and founder of IFFGD in a recent news release. "These conditions disrupt veterans' regular daily activities and, sometimes, their efforts to return to a normal life."
An IFFGD awareness and advocacy campaign aims to improve care and increase research for veterans affected by IBS and other functional GI disorders.
"Long-term or repeated exposure to high levels of stress can cause physical changes in the brain and the intestines," explained Brennan Spiegel, a medical advisor to IFFGD who is associated with the UCLA School of Medicine.
"Military personnel also often are exposed to gastrointestinal infections from food or water and other environmental factors," Spiegel added. "These combined factors could trigger the long-term debilitating GI symptoms we are seeing in returning veterans."
The causes of IBS have not entirely been pinpointed, but many treatments and therapies are available.
Functional gastrointestinal disorders are defined as disorders in the digestive system that cannot be explained by structural or tissue abnormalities and thus are diagnosed largely on the basis of symptoms.
Functional GI disorders include irritable bowel syndrome, whether it is diarrhea-predominant, constipation-predominant or a combination, along with heartburn, gastroparesis and fecal incontinence.
Up to 15 percent of the population has IBS, which can be a chronic condition bringing about not only diarrhea and constipation, but also abdominal pain, cramping, bloating and nausea.
There are no clear numbers on how many men and women returning from the Persian Gulf War, Iraq, Afghanistan and other recent areas of conflict are suffering from IBS, but it has the attention of the Department of Veteran Affairs.
In 2011, the VA made it easier for veterans to gain disability benefits when they have been diagnosed with a functional GI disorder. The new policy is partly based on two National Academy of Sciences papers on the health effects of serving in the Gulf War.
In other advocacy efforts, the IFFGD and other organizations have asked Congress to consider directing more federal research money toward gastrointestinal disorders -- for the benefit of veterans and other Americans.
Sources:
"Functional Gastrointestinal Disorders." About.com. Web. 2 April 2012.
http://ibs.about.com/od/glossary/g/FGD.htm
"Action Alerts." International Foundation for Functional Gastrointestinal Disorders. Web. 2 April 2012.
http://www.giresearch.org/site/advocacy/legislative-alerts/action
"April is IBS Awareness Month: A Serious Issue for Veterans." International Foundation for Functional Gastrointestinal Disorders. Web. 2 April 2012.
http://www.iffgd.org/site/news-events/press-releases/2012-0321-ibs-veterans
"Irritable Bowel Syndrome Among Returning Veterans." Medical News Today. Web. 2 April 2012.
http://www.medicalnewstoday.com/articles/243316.php
Reviewed April 3, 2012
by Michele Blacksberg RN
Edited by Jody Smith
Tags: