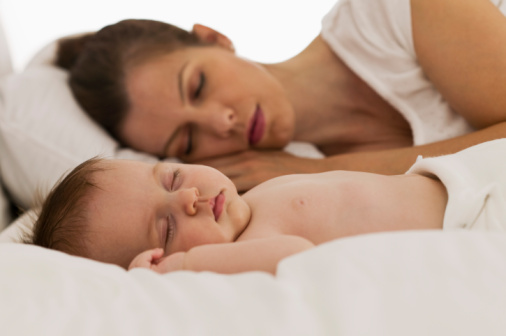 Photo: Getty Images
The idea of a home birth causes some of us to envision a gentle introduction to a baby's first moments of life. But others see a hospital as the only safe place to have a baby.
Complications can arise, in a hospital or at home. No one can predict the outcome of labor. The scales lean in favor of intimacy, then tilt away toward safety. Is it possible to achieve that perfect balance?
Home birth is frequently the preference in Australia, Canada and the United Kingdom. And it's gaining favor in the USA.
Kassy Fatooh of Bishop, California, and Snezana Cook of Hobart, Tasmania, are mothers in different parts of the globe who have each had two babies at home.
Kassy was impressed by her sister's experience with home birth. Later, she became as knowledgeable and as healthy as possible, preparing for her own, complete with midwives and obstetricians.
Her first delivery was easy, requiring only a few stitches. Her second was another story.
The baby was in a posterior position for 10 days of intermittent labor. Kassy said, "On the eleventh day, using a combination of postures, acupressure, moxibustion and homeopathics, we got that baby turned."
She said, "The midwives provided hot compresses and olive oil rubs, I leaned my back against my husband and pushed my feet against my sister's counter-pushing hands, and gave birth at last to my ten pound, two ounce baby. With no tearing, no stitches required. Then I rested and cuddled at home, in my own bed."
In a hospital, Kassy figures intervention would have begun when labor stopped. Her baby's size would have meant a cesarean section.
"Sure, I'm glad there were obstetricians and hospitals available in case I needed them, but I will forever be grateful to the midwives whose knowledge and skill brought my babies safely into the world without unnecessary interventions."
Snezana Cook was interested in natural childbirth from her teens. She said, "I read heaps on the subject."
During her first pregnancy, Snezana attended prenatal classes and appointments with her midwife.
"It was important that I took care of myself and ate well so that I still fell within the 'low risk' category. 'Low risk' meant my blood pressure was within normal parameters, the baby was positioned head down, no gestational diabetes and that I was in good health."
Her midwife had over 20 years experience and worked in the hospital so if needed, transfer could happen easily. Snezana filled out hospital paperwork beforehand, in case.
Her daughter was in a posterior position for 29 hours of labor. "I had many support people helping out with placing hot towels on my back as it was very painful. I was also in the bathtub an awful lot. My midwife was calm and quietly observed and knitted in the background."
Instead of forceps, the midwife used her hands. No stitches necessary. But after this, Cook had no desire to go through labor again.
Still, for her second pregnancy, Snezana opted for home birth. Fortunately this labor lasted only four hours.
"I very much recommend trying for a home birth if you fall into the low-risk category," Cook said. "The most important consideration is finding an experienced midwife, trusting him/her and having a strong support person beside you."
Not everyone favors home birth.
Dr. William Mundle, Director of Maternal Fetal Medicine at Windsor Regional Hospital in Windsor, Ontario voiced concerns, saying, "Most births are uncomplicated but in a home setting, there is greater risk of exposure to infection. It's possible to transfer to a hospital when the mother and child are already in trouble, but this is difficult, and everyone starts out behind the eight ball. If you need medical support it makes sense to go where it's available. Great gains have been made in perinatal medicine over the last 60 years for those rare circumstances where intervention is needed."
The American College of Obstetricians and Gynecologists says home birth is dangerous.
The American Medical Association states, "the safest setting for labor, delivery and the immediate post-partum period is in the hospital, or a birthing center within a hospital complex …"
Other medical organizations disagree.
According to the Centers for Disease Control and Prevention (CDC), babies born at home are less likely to be born preterm or with low birth weight.
The World Health Organization (WHO) says mortality rates for home births are similar to or better than those for hospitals. Cesarean sections, forceps and induction are less common. Labor may be shorter when birth is attended by a midwife.
Like midwives, doulas have been around for centuries. Unlike the midwife, a doula doesn't provide medical care. But research indicates mother and baby do better with a doula attending.
A birth doula offers emotional and physical support to the woman in labor and her family. A postpartum doula cares for them after birth, easing the transition with light housekeeping, breastfeeding support, and encouraging parenting skills.
Margaret Burns of Austin, Texas, has been a doula for more than four years.
"I love being a doula because I get to be a witness to the most magical part of life; for me, that is birth," Margaret said. "Most importantly, I empower women to seek out and choose for themselves the experience that will best honor their way of birthing."
Margaret shared her own home birth experience.
"While my husband was busy caring for our two year old, I was in labor, waiting for our midwives to arrive. My doula was at our house first, and it was wonderful to have her rub my back, offer me water, and give me encouragement. I leaned on both my doula and my husband as the midwives helped our second daughter come into the world. I love the idea of every birthing woman having joy in her birth as well."
Resources:
Home births: No drugs, no doctors, lots of controversy
http://www.cnn.com/2010/HEALTH/08/09/home.births.debate/index.html
Considering A Home Birth
http://www.pregnancy-info.net/homebirths.html
Less Medical Intervention for Home Birth Linked to Increased Neonatal Mortality Rate
http://www.medscape.com/viewarticle/724563
Conflict Between Doctors, Midwives Over Homebirth
http://www.sciencedaily.com/releases/2009/05/090511151616.htm
Visit Jody's website and blog at http://www.ncubator.ca and http://ncubator.ca/blogger
Tags: