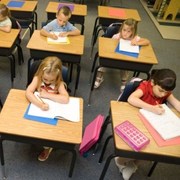 Jupiterimages/Comstock/Thinkstock
Parents around the country worry about the level of education their children receive at their local public schools. They worry about the ethics and backgrounds of the teachers.
They worry about test scores, not-so-healthy school lunches, and bullying. But they may be ignoring the biggest hazard of all -- the high amounts of radon in public schools.
Radon is a naturally-occurring, odorless, invisible gas that is derived from deposits of uranium in soil, sediment, and water. Generally speaking, it is harmless outside where it is diluted by the many particles of air around it.
However, when radon occurs in an enclosed space like a home or a school, it can cause serious, and often deadly, long term illnesses. The problem begins when radon breaks down into its radioactive molecules and is inhaled over a long period of time.
These molecules can damage lung cells and ultimately cause lung cancer. Since there are no short term effects of radon exposure like shortness of breath, cough, or headaches, it is impossible to detect its presence except by specifically testing for it.
Exposure to radon is the second leading cause of lung cancer in the United States, with only smoking ahead of it. It is estimated that radon causes about 15,000 deaths per year. The longer one is exposed to radon and the greater the concentration of the radon in the air, the more likely one is to develop lung cancer.
This is why the idea that radon could be in public schools is so alarming. Children often spend up to eight hours a day inside a school and typically attend the same school for several years in a row.
The Environmental Protection Agency (EPA) conducted a nationwide survey of radon levels in schools and found that almost 20 percent or nearly one in five schools, has at least one classroom with a radon level above that which the EPA recommends for schools. According to EPA estimates, more than 70,000 classrooms which are being used today have high radon levels.
On February 29, 2012, NBC's Today Show did an exposé on the unacceptable radon levels in U.S. schools. They found many schools did not test for radon, citing budget costs. But, when NBC offered to pay for the testing, the schools declined. EPA and other government officials also declined to talk on camera about this issue.
However, the EPA did release a statement to NBC News which included the following: "Radon is a significant and preventable public health risk, and testing for radon and reducing high levels are important steps everyone should take to protect the health of their family. Along with leading joint federal efforts to reduce radon exposure, EPA will continue to work with states on testing for radon, addressing high levels in homes and schools, and building radon-resistant homes and schools."
Parents, teachers, and administrators are encouraged to advocate for the testing for radon in schools. While it may create a temporary financial burden to fix any classrooms that have an issue, it will make the schools safer for everyone who enters them.
Sources:
WSOCTV.com. Web. 29 February 2012. "Facts about radon." http://www.wsoctv.com/news/news/facts-about-radon/nJQfM
Epa.gov. Web. 29 February 2012. "Radon in schools." http://www.epa.gov/radon/pubs/schoolrn.html
Today.MSNBC.com. Web. 29 February 2012. "Statements from EPA, Congress about Radon Reports."
http://today.msnbc.msn.com/id/46517514/ns/today-today_rossen_reports/t/statements-epa-congress-about-radon-report/#.T07OWIemhXZ
Reviewed March 1, 2012
by Michele Blacksberg RN
Edited by Jody Smith