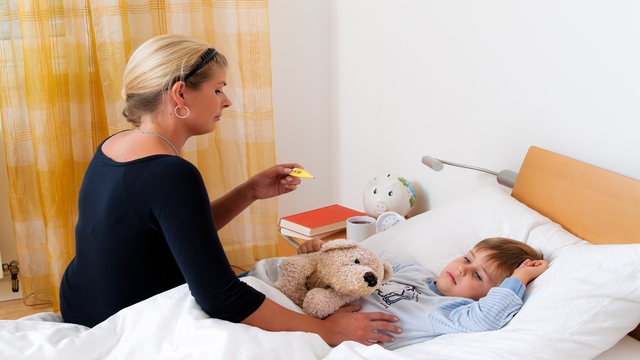 Erwin Wodicka/PhotoSpin
The year 2013 is on track to be the worst year in terms of measles outbreaks since 1996. The Centers for Disease Control and Prevention (CDC) reported this month that there have been 159 cases of measles in the United States from January 1 through August 24.
If the numbers hold steady for the rest of the year, the total number of measles cases in the United States will surpass every year since 1996, when an outbreak sparked a monstrous 500 measles cases that year.
Measles is a highly contagious respiratory disease. Prior to the measles vaccination, there were hundreds of thousands of cases of measles in the United States.
Since the vaccination was made available in the 1960s, the cases dropped dramatically. Some experts thought the disease was eradicated totally in this country by the year 2000, but the numbers have slowly crept up.
Most new cases are caused by people coming into the United States from foreign countries where measles is a common disease and vaccination availability is low. The number of cases may also be increasing due to the small pockets of parents who refuse to vaccinate their children.
According to the CDC, almost two-thirds of the reported cases of measles this year occurred in three outbreaks in communities where many parents have chosen not to vaccinate their children because of religious or philosophical reasons. Some have not vaccinated because they are concerned about their children's possible physical responses to the MMR shot which is for measles, mumps and rubella.
While some people think measles is "just" another childhood disease, experts are worried about this uptick in cases. Approximately one to three children out of 1000 will die from complications of measles.
Dr. Buddy Creech, a Vanderbilt University pediatric infectious disease expert took part in a telephone briefing call with the CDC on September 12, 2013. He was very alarmed by the report.
"This is very bad. This is horrible," said Creech. "The complications of measles are not to be toyed with, and they're not altogether rare."
Complications from measles can include pneumonia and encephalitis, and as stated, even death. In 2011, almost 40 percent of the children under the age of 5 who contracted measles had to be hospitalized.
The most vulnerable group is infants, who cannot be vaccinated for the disease until after they have turned one year old. This report suggests that parents who choose not to vaccinate may be putting other people's children at risk.
In its report, the CDC declared that unvaccinated people place themselves and their communities at risk for this viral disease. Creech believes that adhering to the appropriate vaccination schedule is the safest route for all children.
He said, "I hope that those who are vaccine hesitant or vaccine avoidant realize there are consequences to their actions. None of us lives in isolation."
Sources:
CNN.com. 12 September 2013. Web. US Measles Cases Might be Worst in 17 years.
http://www.cnn.com/2013/09/12/health/worst-measles-year/index.html
CDC.gov. 13 September 2013. Web. Measles: United States, January 1-August 24, 2013.
http://www.cdc.gov/mmwr/preview/mmwrhtml/mm6236a2.htm
Reviewed September 19, 2013
by Michele Blacksberg RN
Edited by Jody Smith