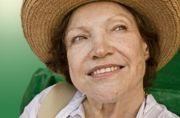 Despite changes in hormones and body composition, postmenopausal women show significant cardiovascular improvements when they do regular, vigorous exercise, according to a U.S. study.
The study included 10 healthy but sedentary women, average age 55, who did endurance training on an exercise bike for one hour, five days a week, at 65 percent of their maximum lung capacity, United Press International reported.
The women's ability to consume and use oxygen increased by an average of 16 percent, and their resting heart rates decreased by an average of four beats per minute. By the end of the study, the women had the cardiovascular and metabolic traits of women 16 years younger, said the University of California, Berkeley researchers.
The study appears in the journal Metabolism.
Tags: