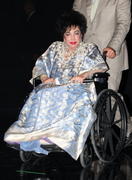 Elizabeth Taylor
Academy Award winning actress Elizabeth Taylor on Tuesday announced she's having an experimental heart procedure. EmpowHer's Todd Hartley interviewed cardiothoracic surgeon and the chairman of EmpowHer's Medical Advisory Board, Dr. Lishan Aklog, M.D., about Taylor's procedure and why he considers it to be "controversial and experimental."
Click on this link to listen to Dr. Aklog's interview:
https://www.empowher.com/media/audio/elizabeth-taylors-controversial-experimental-heart-surgery-explained-dr-lishan-aklog
Aklog explained, "It sounds like she has a leaky valve, what appears to be a leaky mitral valve. This is the inlet valve for the main pumping chamber of the heart. When that valve is leaking, some of the blood goes backwards and leaks back towards the lungs. And that causes a condition which she apparently was diagnosed with five years ago called congestive heart failure."
Click on the link above to listen to the full interview with Dr. Aklog and find out why he considers Elizabeth Taylor's procedure a high risk, the why it's controversial, what most patients with similar conditions experience and what the traditional treatment is.
Tags: