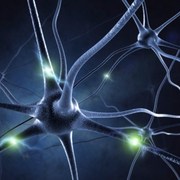 iStockphoto/Thinkstock
Multiple sclerosis is a demyelinating disease of the brain and spinal cord. The patient's immune system attacks the substance covering the nerve fibers in the central nervous system, called myelin.
Damage to the myelin affects neural communication, resulting in the symptoms of multiple sclerosis.
About 400,000 people in the United States have multiple sclerosis, with the number of patients worldwide exceeding 2.1 million, according to the National Multiple Sclerosis Society.
Women are diagnosed with multiple sclerosis more often than men.
There are four types of multiple sclerosis. They are relapsing-remitting multiple sclerosis, primary-progressive multiple sclerosis, secondary-progressive multiple sclerosis and progressive-relapsing multiple sclerosis.
About 85 percent of individuals receive the initial diagnosis of relapsing-remitting, according to the National Multiple Sclerosis Society. The severity can range from mild to severe.
One test used to diagnose multiple sclerosis is a magnetic resonance imaging, or MRI, scan. This imaging technique uses radio waves and magnets to generate an image of the brain.
In many MRIs, the images are of hydrogen nuclei, but it can also use other nuclei, such as sodium, according to Stanford University.
This type of MRI has provided insight into the disability of patients with multiple sclerosis. The study included 26 patients with relapsing-remitting multiple sclerosis.
Of these, 14 participants were in the early stage, while 12 participants had had the disease for longer than five years. The patients were matched with 15 controls on age and gender.
The researchers used a 3 Tesla sodium MRI. In the early-stage patients, they found abnormally high concentrations of sodium in the temporal pole, brain stem and cerebellum, according to the press release from the Radiological Society of North America.
In the advanced patients, the high concentrations were more widespread.
Wafaa Zaaraoui, Ph.D., one of the authors of the study, said in the press release that "the amount of sodium accumulation in gray matter associated with the motor system was directly correlated to the degree of patient disability."
The results from the study may help develop new treatments for multiple sclerosis.
References:
National Multiple Sclerosis Society. Who gets MS?. Web. 25 July 2012
http://www.nationalmssociety.org/about-multiple-sclerosis/what-we-know-about-ms/who-gets-ms/index.aspx
National Multiple Sclerosis Society. What is Multiple Sclerosis?. Web. 25 July 2012
http://www.nationalmssociety.org/about-multiple-sclerosis/what-we-know-about-ms/what-is-ms/index.aspx
MedlinePlus Medical Encyclopedia. Head MRI. Web. 25 July 2012
http://www.nlm.nih.gov/medlineplus/ency/article/003791.htm
MedlinePlus Medical Encyclopedia. Multiple Sclerosis. Web. 25 July 2012
http://www.nlm.nih.gov/medlineplus/ency/article/000737.htm
Stanford University. Sodium MRI. Web. 25 July 2012
https://www.stanford.edu/group/bmr/cgi-bin/mediawiki/index.php/Sodium_MRI
EurekAlert! Sodium Buildup in Brain Linked to Disability in Multiple Sclerosis. Web. 25 July 2012
http://www.eurekalert.org/pub_releases/2012-07/rson-sbi071012.php
Reviewed July 25, 2012
by Michele Blacksberg RN
Edited by Jody Smith
Tags: