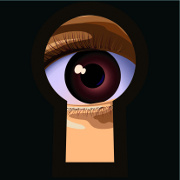 Photo: Getty Images
Vision is a sense that many of us rely on every day. We use vision for simple tasks, such as looking at what is on a sign, to more complex tasks, such as driving. But imagine yourself driving and all of a sudden, you are blind.
That frightening experience is called night blindness. When you are in a situation with low levels of light, such as driving at night, your eyes become adjusted to the low levels of light. But when a car zooms past with its lights on, the light intensity increases, and your eye adjusts by contracting the pupils.
To adjust back to the low light, your eyes dilate the pupil. The night blindness occurs during those seconds in which your eyes make those adjustments, according to the Texas Department of Insurance.
Someone who has night blindness has trouble with their vision at night, as well as in dim light. The severity of the night blindness can range from having difficulty seeing in low light and darkness, to not being able to see at all.
A person who has night blindness may have difficulty when walking in a dark room. Night blindness may also affect a person's ability to see the stars in the sky on a clear night. MedlinePlus noted that often, the night blindness is worse for a person after she has been in a brightly-lit room and moved to a low light situation.
If you have night blindness, you can take certain precautions to reduce harm to yourself and others. For example, avoid driving at night. MedlinePlus pointed out that an exception is for people with night blindness who have the approval from their eye doctor.
The Texas Department of Insurance provided further suggestions. For example, when driving, keep your eyes toward the right side of the pavement so oncoming cars' lights do not blind you. Also clean the inside and outside of the windshield to reduce glare. When driving, keep certain courtesies in mind to reduce the risk of blinding others, such as turning off your high beams when another car is approaching you.
References
MedlinePlus Medical Encyclopedia. Vision – Night Blindness. Web. 21 November 2011
http://www.nlm.nih.gov/medlineplus/ency/article/003039.htm
Cleveland Clinic. Night Blindness. Web. 21 November 2011
http://my.clevelandclinic.org/disorders/night_blindness/hic_night_blindness.aspx
Texas Department of Insurance. Night Blindness. Web. 21 November 2011
http://www.tdi.texas.gov/pubs/videoresource/t5nightblind.pdf
NYU Langone Medical Center. Night Blindness. Web. 21 November 2011
http://www.med.nyu.edu/content?ChunkIID=96907
Reviewed November 22, 2011
by Michele Blacksberg RN
Edited by Jody Smith
Tags: