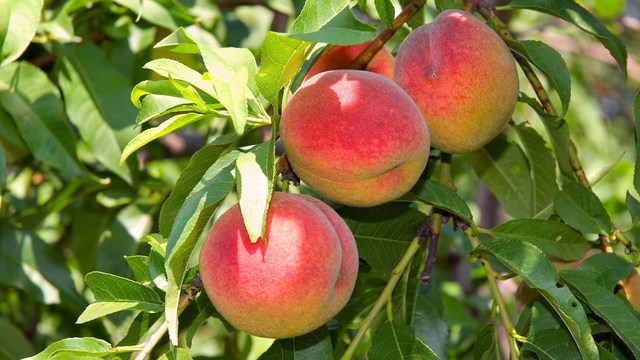 Yuri Tuchkov/PhotoSpin
As we head into August we take delight in and celebrate the peach, which may be the pride of Georgia, but has roots dating far back and away from the U.S.A. August is National Peach Month and from mystical to bountiful, this delectable fruit has been a favorite on many continents.
Peaches originally came from China. They later found their way to Persia. The Romans later called them Persian Apples. Oh, yes, peaches have been around the block and then some.
Loaded with vitamins, a total of ten according to LiveStrong.com, "A large peach provides 570 international units of vitamin A, important to healthy vision, and 11.6 mg of vitamin C, an antioxidant and tissue-builder. Peaches provide lower levels of vitamins E and K."
Here are some of my favorite original peach recipes:
PEACHES AND CREAM CREPES
• 1 Egg
• 1 Cup of vanilla Greek yogurt
• 1 Tsp. safflower oil
• 1/4 Tsp. of Stevia powder
• Dash vanilla
• 1 Peach, sliced
• Butter flavor cooking spray
Mix together 1 egg, 1 tablespoon of yogurt, oil and vanilla.
Spray a nonstick pan with butter flavor spray.
Spoon out two crepes in pan.
Mix remainder of yogurt with Stevia and peaches.
Fill crepes with yogurt mixture.
PEACHES AND CREAM OATMEAL
• 1/2 Cup of quick oats
• 1/2 Cup water
• 1 Scoop of vVanilla whey protein
• 1/2 Cup fresh sliced peaches
Mix all ingredients together and place in microwave for 1 minute.
Add a splash of milk and enjoy!
PEACH CRISP
• 1 Large peach, peeled and sliced
• 1 Scoop of whey protein
• 1 cup of Greek yogurt
• Dash of cinnamon
• ¼ Cup of quick oats
Bake peach in microwave for 3 minutes.
Stir warm apple in with other ingredients in microwave safe bowl.
Bake in microwave for an additional two minutes.
Makes 2 servings.
ITALIAN PEACH SORBET
• 1 Peach
• 1 Scoop of vanilla whey protein powder
• 1/2 Cup almond milk
• 1/4 Cup of coconut milk yogurt
Cut the top off of the peach and set side.
Hollow out peach and cut inside into small pieces.
Mix chopped peach with 1/2 cup almond milk, 1 scoop of vanilla whey and 1/4 cup of coconut milk yogurt.
Put mixture inside peach, put top back on, wrap in plastic wrap and freeze for a few hours. (Not only can you eat the inside. You can eat the whole peach too!)
PEACHY MAC N' CHEESE
Fruit, macadamia nuts, cottage cheese
1 Cup of cottage cheese
1 Cup of fresh peaches, diced
4 macadamia nuts, chopped
Mix ingredients together.
Sweeten with Stevia powder.
Sources:
"August National Peach Month – FillYourPlate.org." Arizona Farm Bureau. Web. 31 July 2014.
http://fillyourplate.org/blog/celebrate-national-peach-month-interesting-peach-fac
"Health Benefits of Peaches LiveStrong.com." Live Strong." Web. 31 July 2014.
http://www.livestrong.com/article/408214-what-are-the-health-benefits-of-peaches
Joanne Sgro-Killworth is a Television Fitness Expert, Certified Personal Trainer and Sport Nutritionist and Publicist. She is Certified in Pilates, Pre-natal/Post-Partum, Yoga and Senior Fitness. She specializes in Weight Loss, Post-Rehab and Post Cancer Training.
Joanne's fitness plans, recipes and lifestyle advice are available globally on her website http://www.happiwoman.com/ She resides in the Phoenix, AZ area with her husband and son, where she runs her fitness and publicity business, JSK PR, http://www.jskpr.com/
Reviewed August 1, 2014
by Michele Blacksberg RN
Edited by Jody Smith