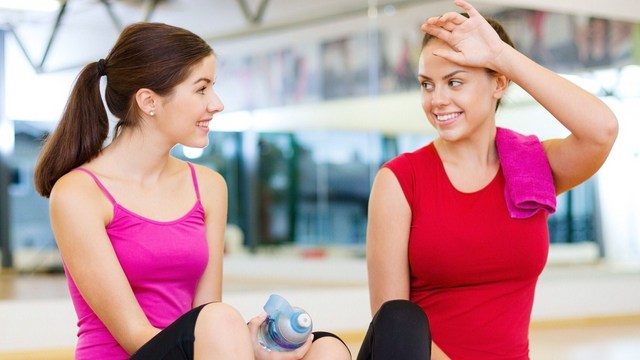 Lev Dolgachov/PhotoSpin
A new study out of Canada touts the benefits of resistance training to combat teenage obesity.
"Aerobic exercises such as cycling or jogging can be challenging for overweight people, resistance training is potentially attractive because excess body weight poses far less of a disadvantage, and gains in strength come much more quickly than gains in aerobic fitness," according to CanadaJournal.net.
The American College of Sports Medicine (ACSM) agrees, stating that "regular resistance training induced a seven-percent increase in resting energy expenditure compared to aerobic-only exercise and dieting." This was reported on LiveStrong.com.
One of my favorite ways to implement resistance training is doing it in a circuit format. You get your heart rate up and it is more efficient. Below is a fun, circuit routine I designed for you and your teen to do together at home.
CIRCUIT TRAINING
Each day should start with a warm-up for specified amount of time, followed by stretching. It is very important that you cool down with a stretch after your workout too.
For all of your cardiovascular activity, you can start out by walking if you're a beginner. You can also warm up by utilizing any type of cardiovascular equipment such as a treadmill, bike, elliptical trainer or stepper. You will need a long resistance band with handles, a set of dumbbells and a resistance ball for these exercises.
CIRCUIT
• CARDIO WARM-UP 10 MINUTES
• STRETCH ENTIRE BODY
• 1 SET OF 12 REPS FOR EACH EXERCISE
• REST FOR 2 MINUTES
• REPEAT CIRCUIT OF RESISTANCE EXERCISES 1 OR 2 MORE TIMES
BACK
Band Lat Pulldown
Hold band overhead with arms straight up. You can adjust hands closer to increase tension.
Contract the back and pull the band out while bringing the elbows towards the rib cage.
Decrease tension slowly, while raising arms back up and repeat.
BICEPS
Band Bicep Curls
Stand on the band and hold handles with palms facing out.
Keeping abs in and knees slightly bent, bend arms and bring palms toward shoulders in a bicep curl.
Position feet wider for more tension.
Return to start and repeat.
SHOULDERS
Band/Upright Row
Step on the band securely with both feet.
Hold handles in an overhand grip and row upwards, bringing elbows to shoulder height.
CHEST
Ball Chest Press
Lie on the ball holding dumbbells in an overhand grip, arms bent at sides in a 90-degree angle.
Press dumbbells up and in contracting chest.
Bend arms down again to starting position.
QUADS
Ball Squats
Place the ball on a wall directly behind your mid-lower back.
Lean against the ball (slightly) and bend knees, lowering the body until knees are at 90-degree angles.
Push back to starting position.
Alternate legs with each repetition.
Hamstrings
Leg Curls on Ball
Lie on your back on the floor and place your heels on the ball.
Lift hips until your body is in a straight line.
Contracting the hamstrings, press the heels into the ball and roll it towards you while keeping the glutes and abdominals tight. (Stay up, do not drop glutes to the floor)
TRICEPS
Overhead Extension
Hold the band overhead, letting it hang behind you.
Pull the band down behind your back, about waist level with your other hand.
Arm overhead should now be bent at a 90 degree angle at elbow.
While keeping your bicep close to your ear, drop your forearm behind your head.
Contract the triceps to straighten the arm.
Return to start and repeat on the other side.
Pelvic Tilts on Ball
Lie on your back on the floor with your knees bent, and feet flat on ball.
Lift and lower hips while pressing feet into the ball, keeping your abdominals in tight and contracting your glutes.
((DON'T FORGET TO STRETCH AFTERWARDS))
Sources:
"Weights plus cardio is answer to teen obesity, study suggests – CanadaJournal.net." Web. Sept. 30th, 2014.
http://canadajournal.net/health/weights-plus-cardio-is-answer-to-teen-obesity-study-suggests-15377-2014
"Fat Burning Circuit Training Workouts- LiveStrong.com." Live Strong. Web 30 Sept. 2014.
http://www.livestrong.com/article/112930-fatburning-circuittraining-workouts
Joanne Sgro-Killworth is a Television Fitness Expert, Certified Personal Trainer and Sport Nutritionist and Publicist. She is Certified in Pilates, Pre-natal/Post-Partum, Yoga and Senior Fitness. She specializes in Weight Loss, Post-Rehab and Post Cancer Training.
Joanne's fitness plans, recipes and lifestyle advice are available globally on her website http://www.happiwoman.com/ She resides in the Phoenix, AZ area with her husband and son, where she runs her fitness and publicity business, JSK PR, http://www.jskpr.com
Reviewed October 1, 2014
by Michele Blacksberg RN
Edited by Jody Smith