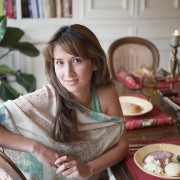 Photo: Getty Images
"You look ravishing!" Who wouldn't want to hear those words this New Year. Renowned author and nutritionist, Elizabeth Somer, knows just how you can get that reaction. Her new book Eat Your Way to Sexy claims to help you look and feel your best from head to toe.
In a recent interview with me, Elizabeth said, "Beauty really is more than skin deep. Nourish your skin on the inside and it is reflected on the outside. You are a package and you want to feed the package."
SExY is actually an acronym for "Sensual, Extraordinary, You" and is all about how do you feel essentially amazing vital and sensual. Somer says it is hard to feel that way if you are sluggish. Her book entices you to eat healthy. "The S-Ex-Y eating plan includes the Ménage à Trois breakfast, the G-Spot and Quickie snacks."
The Ménage à Trois Breakfast includes whole grain or carbohydrates for brain power, protein to keep blood sugar levels even, and two to three servings of colorful fruit and vegetables. The G-Spot Snack includes all-grain or all-carb small snacks to boost levels of serotonin. Quickie Snacks include a protein, carbohydrate and fruit to recharge. That could include a piece of string cheese, some whole grain crackers and an apple.
Other components of the plan also include a Twosome Lunch complete with something light and low-fat like a salad with grilled chicken or fish and a light dinner. Somer said, "You want to eat authentically, just like you want a lover to be real honest and loyal." She said three out of four bites must come from fruits, veggies, lean proteins and 100-percent whole grains.
The SExY Eating Plan also includes 6 Rules to Eat Your Way to SExY. Those six rules according to Somer are inclusive of an antioxidant orgy, encompassing eating real food. Next you want to feed your number one sex organ which is your brain. You also want to give yourself some space by eating regularly throughout the day.
Don't forget to get wet and wild at least twice a week with omega-3s like salmon or by taking a daily fish oil or DHA. In this plan, size matters so get out the food scale and measuring cups and weigh and measure your portions. Finally, don't forget to take the pill like a moderate dose multiple vitamin, as well as a calcium magnesium pill and extra vitamin B.
The plan also includes enticing herbs, spices and supplements. They include "red pepper, rosemary, turmeric, saffron, cinnamon that give an extra boost to turn a lagging mojo into a lusty one."
Somer also said, "Sexy is about circuitry and circulation and it is all related to blood flow. If you have squeaky clean and elastic blood flow, you have your heart pumping good and strong down to sex organs and tips of your toes. All of this improves energy, sexual response, quick wit ... everything."
Somer encourages readers to, "Swing from the Raptors" in her chapter on exercise. Well, maybe not literally swing, she does encourage us to get moving and exercise.
"It's not just about having sex and enjoying it, which is great in and of itself. It's about feeling alive, vibrant, confident and passionate. It's about saying 'YES!' to life, in and out of the bedroom."
Elizabeth Somer's book, Eat Your Way to Sexy, is due out on December 27th. You can purchase the book on Amazon at the following link:
http://www.amazon.com/Eat-Your-Way-Sexy-Reignite/dp/0373892535
References:
"Elizabeth Somer – Books – Eat Your Way To Sexy – ElizabethSomer.com" Elizabeth Somer. Web 20 Dec. 2011.
http://www.elizabethsomer.com/books_eat_your_way_to_sexy.html
Eat Your Way To Sexy, 2011; Elizabeth Somer, M.A., R.D.
Joanne Sgro-Killworth is a Television Fitness Expert, Certified Personal Trainer and Sport Nutritionist. She is a Studio trained and Certified Pilates Instructor as well as holds certifications in Pre-natal/Post-Partum Exercise, Yoga and Senior Fitness. She specializes in Weight Loss, Post-Rehab and Post Cancer Training.
Joanne's fitness plans and recipes are available globally on her website www.fitnessanswer.com. She resides in the Phoenix, AZ area with her husband, where she runs her personal training business, Fitness Answer, LLC.
Reviewed December 20, 2011
by Michele Blacksberg RN
Edited by Jody Smith
Tags: