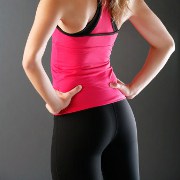 Photo: Getty Images
Back to school and back to cool will soon be the calling, and most of us need to start shopping for fall attire. One wardrobe staple for us gals throughout the years has been leggings. Leggings are currently making a comeback in the fashion world, and they are not just for workout wear. A London physiotherapist caused quite a stir when she said that they could make you fat.
Sammy Margo is quoted on her popular blogsphere, U.K.'s Daily Mail. Margo said, "They hold in and support the quadriceps (thigh muscles), buttocks and core muscles in your tummy, and do the job the muscles are supposed to do. As a result, the muscles are allowed to relax and switch off… so they are not as svelte or firm as they otherwise would be."
She claimed that leggings promote an increase in body fat and make the muscles "lazy." Weight loss expert Dr. Jana Klauer refuted Margo's claim. She told MSNBC, "That's ridiculous. There's nothing in leggings that would cause any change to occur within the muscle or the fat of the leg."
As a fitness expert, I agree with her, and I think it is ridiculous to believe that what goes on the outside of our bodies actually affects weight and body fat. Klauer also said, "If your stomach and legs are flabby, it's because you're eating too much or not exercising enough."
As a studio-trained and certified Pilates Instructor, here is what I have to say: A dormant muscle not being used will atrophy. However, it has more to do with the mind and body connection to those muscles that make a muscle either strong or lax.
Pilates breathing and exercises are about building the mind and body connection to the core and surrounding muscles, as well as improving wellness. Below is a basic Pilates breathing exercise to help you build that connections and get a "leg up" on building those core muscles:
Breathe: It is important that you breathe deeply and fully in Pilates. When breathing, you should inhale deep into the lungs and allow the belly to pull in, similar to putting on a tight pair of pants. Then, exhale the breath deep into your core as you pull and tighten your belly. To do so, inhale and allow the breath to move in slowly to the chest and back ribs, then to the belly and lower back. Finally, allow the breath to move deep into the pelvic floor. The exhale starts at the bottom and releases upward through the torso, exhaling all of the air out of the lungs. Pilates exercises coordinate with the breath, and by breathing properly, you will be able to sustain the movement properly.
Online References:
http://bodyodd.msnbc.msn.com/_news/2011/05/04/6579205-fact-check-do-leggings-really-make-you-fat
http://www.huffingtonpost.com/2011/05/02/leggings-make-you-fat_n_856391.html
Joanne Sgro-Killworth is a Television Fitness Expert, Certified Personal Trainer and Sport Nutritionist. She is Certified in Pilates, Pre-natal/Post-Partum, Yoga and Senior Fitness. She specializes in Weight Loss, Post-Rehab and Post Cancer Training. Joanne's fitness plans and recipes are available globally on her website www.fitnessanswer.com. She resides in the Phoenix, AZ area with her husband, where she runs her personal training business, Fitness Answer, LLC.
Reviewed July 27, 2011
by Michele Blacksberg R.N.
Edited by Shannon Koehle