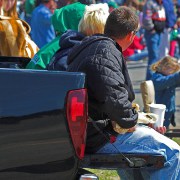 Photo: Getty Images
This weekend marks the kick-off to football season where many of us will gather with our family and friends in front of our televisions to watch our favorite team. Football means food and it is especially important that we set an example and not let our kids, or ourselves for that matter, indulge in too much junk.
We should also make sure we are still getting enough fruits and vegetabls. According to the United States Department of Agriculture, "Two cups of fruit and 2½ cups of vegetables per day are recommended for a reference 2,000-calorie intake, with higher or lower amounts depending on the calorie level."
Usually these decadent spreads consist of hearty sandwiches loaded with processed meats and cheeses or wings, wings and more chicken wings. There are however some healthier recipes and alternatives to the burgers, wings and fries.
For example, according to LiveStrong.com, "While nachos may be a favorite tailgating party food, you can save a lot of calories and fat by omitting the cheese and using baked tortilla chips instead of the traditional fried chips. A 1-oz. serving of baked tortilla chips with tomato salsa contains about 140 calories and 2 g of fat. You can also make low-fat nachos using your baked tortilla chips, low-fat cheese and diced jalapeno peppers."
Below are some of my favorite healthy alternative recipes to keep you track and in shape this football season:
RED PEPPER CHICKEN BURGER
6 oz. of ground chicken
1tbsp. of olive oil
1 tbsp. of red pepper spread (usually found in ethnic food aisle of grocery store)
1 slice of sharp provolone cheese
1 slice of multi-grain bread
Mix together ground chicken and red pepper spread and form patty. Cook thoroughly in medium skillet on both sides. Top with a piece of sharp provolone. Served open-faced on a slice of multi-grain bread and loaded with tomato and lettuce.
EGGPLANT ROLL-UPS
½ small eggplant sliced thin lengthwise
6 oz. of flank steak sliced thin
2 tablespoons of olive oil
Garlic powder
Pinch of salt
Coat eggplant with olive oil, season with garlic and salt. Grill eggplant on indoor or outdoor grill. Grill flank steak. Place each piece of steak on each piece of eggplant and rollup and serve.
GRILLED CHICKEN PORTOBELLO PIZZA
8 oz. chicken breast, diced
1 tsp. olive oil
1 clove of garlic, chopped
12 oz. of thickly sliced portobello mushrooms
6 oz. of shredded mozzarella cheese
2 ripe Roma tomatoes sliced
Preheat oven to 450. Mix together oil and garlic. Dip mushrooms and tomatoes in mixture and place on indoor or outdoor grill. When veggies are done, use remainder of mixture to coat chicken and place chicken on grill. Arrange mushrooms close together (like a puzzle) on baking sheet. Place grilled chicken and tomatoes on top of mushrooms. Top with cheese and bake for about 3 minutes
Subs, heroes and, in my hometown of Philadelphia, we call them hoagies, usually garnish several trays at a Superbowl Party. My suggestion is to keep these caloric bundles under "wraps" and reach for a healthier alternative.
CHICKEN CAESAR WRAP
6 oz. piece of grilled chicken diced
low carb whole-wheat tortilla
2 tablespoon of light Caesar dressing
2 oz. of shredded romaine
1 tomato cut into wedges
Mix chicken with dressing and romaine. Fold into tortilla.
TURKEY MUSHROOM SWISS BURGER
4 oz. of ground turkey breast
1 tbsp.of olive oil
¼ tsp. of garlic powder
½ teaspoon of Worcestershire sauce
1 tbsp. of chopped scallions
2 medium shiitake mushrooms chopped
1 slice of Swiss cheese
Mix together turkey, garlic, Worcestershire sauce and set aside. Sauté scallions and mushrooms in medium skillet for about 5 minutes. Mix onion mixture in with turkey and form two small burgers. Cook over medium heat flipping over until juices run clear. Top with Swiss cheese.
Serve with side spinach salad and balsamic vinaigrette.
"Dietary Guidelines Recommendations – Health.gov." United States Department of Agriculture. Web 8 Sept. 2011.
http://www.health.gov/dietaryguidelines/dga2005/recommendations.htm
"Healthy Tailgate Food – Livestrong.com." LiveStrong. Web 8 Sept. 2011.
http://www.livestrong.com/article/373424-healthy-tailgate-food/#ixzz1XOC9KPIg
Joanne Sgro-Killworth is a Television Fitness Expert, Certified Personal Trainer and Sport Nutritionist. She is Certified in Pilates, Pre-natal/Post-Partum, Yoga and Senior Fitness. She specializes in Weight Loss, Post-Rehab and Post Cancer Training.
Joanne's fitness plans and recipes are available globally on her website www.fitnessanswer.com. She resides in the Phoenix, AZ area with her husband, where she runs her personal training business, Fitness Answer, LLC.
Reviewed September 8, 2011
by Michele Blacksberg R.N.
Edited by Jody Smith
Tags: