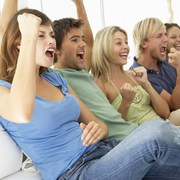 MonkeyBusiness Images/PhotoSpin
The Super Bowl is set to kick off this weekend and that has many stocking up for the festivities. If you head into any grocery store, you will see plenty of tempting snacks and ideas for your Super Bowl party.
The Calorie Control Council estimates that Americans will consume almost an entire day's worth of calories just during the big game.
The Council said, "That breaks down to 11.2 million pounds of potato chips, 8.2 million pounds of tortilla chips, 4.3 million pounds of pretzels, 3.8 million pounds of popcorn and 2.5 million pounds of nuts."
According to FoxNews.com, "Americans spend more than $50 million annually stocking up on snack food for Super Bowl weekend." Most of those snacks are typically not healthy.
The Centers for Disease Control and Prevention suggests heading into the day with a gameplan, "Eat healthy snacks before the celebration, or better yet, take healthy snacks with you to prevent overindulging."
The Calorie Control Council agrees that sports fans should seek out alternative ingredients for the day. "Use fresh herbs and spices such as cilantro, parsley and hot peppers to add great flavor. Add fresh vegetables and low-fat dips to your party tray and you've got a healthy appetizer in no time!"
My suggestion is to eat like the players and celebrate with fare from two iconic cities.
This year it is a battle between San Francisco and Baltimore or Pacific versus Atlantic. From Fisherman's Wharf to the Inner Harbor, both cities boast some famous delicacies.
So why don't you "go coastal" for your Super Bowl dishes. The 49ers versus the Ravens is a match-up between two great seafood cities.
There should be something fishy and healthy about your game day menu and that is a good thing.
In honor of the Ravens, let's serve up some healthy crab cakes. Here is one of my original favorites:
ALMOND CRUSTED CRAB CAKES
• 6oz. can of crabmeat
• 4 tablespoons of almond meal (usually in the health food store nut aisle)
• 1 egg
• 1 tsp. of paprika
• 1 tsp. of dry mustard
• Pinch of salt and pepper
• Olive oil
Mix all ingredients together. Shape into 2 large cakes.
Fry in olive oil.
In honor of San Francisco, the signature Italian dish of cioppino, a tomato-based seafood stew, will really help kick off the party.
My version is a combination of an Italian zucchini stew called "giambotta meets cioppino".
SEAFOOD ZUCCHINI STEW
• 10 large shrimp, peeled and deveined
• 10 scallops, cleaned
• ½ pound of halibut
• 4 zucchinis, diced
• 1 Onion Diced
• 2 peeled carrots, chopped
• 2 jars of crushed tomatoes
• Garlic powder
• Oregano
• Salt and pepper
In large pot add in chopped zucchini, onions, 1 jar of crushed tomatoes and let simmer.
In separate frying pan brown shrimp, scallops and halibut.
Add fish to vegetable and tomato pot. Season with garlic powder, oregano, salt and pepper.
Continue to simmer until vegetables are tender.
Sources:
"Score Big with Healthy Super Bowl Recipes; Push Unhealthy Snacks to the Sideline on Game Day – CalorieControl.org." The Calorie Control Council. Web 29 Jan. 2013.
http://www.caloriecontrol.org/pressrelease/score-big-with-healthy-super-bowl-recipes-push-unhealthy-snacks-to-the-sideline-on-game
"Shocking Super Bowl food facts – FoxNews.com." Fox News. Web 29 Jan. 2013.
http://www.foxnews.com/leisure/slideshow/2013/01/28/super-bowl-food-shockers/?intcmp=related#slide=1#ixzz2JKmi3tbP
"Have a Safe and Healthy Super Bowl Celebration – CDC.Gov." The Centers for Disease Control and Prevention. Web 29 Jan. 2013.
http://www.cdc.gov/men/superbowl/index.htm
Joanne Sgro-Killworth is a Television Fitness Expert, Certified Personal Trainer and Sport Nutritionist. She is Certified in Pilates, Pre-natal/Post-Partum, Yoga and Senior Fitness. She specializes in Weight Loss, Post-Rehab and Post Cancer Training.
Joanne's fitness plans and recipes are available globally on her website www.fitnessanswer.com/ She resides in the Phoenix, AZ area with her husband and son, where she runs her personal training business, Fitness Answer, LLC.
Reviewed January 30, 2013
by Michele Blacksberg RN
Edited by Jody Smith