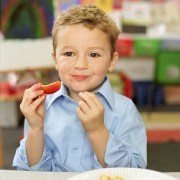 Photo: Getty Images
As a result of the concerns regarding childhood obesity, we have seen improved nutrition in our school cafeterias, an emphasis on moderate, daily exercise and changes to the food pyramid. Now, the ever popular fast-food restaurant, McDonald's, announced this week that it will also be making nutritional changes to its menu. In particular, the children's Happy Meals will be lower in calories, fat and sodium.
For many years, when ordering a Happy Meal, parents could ask for fruit instead of fries and milk to replace a soft drink. Now, however, the new Happy Meal will automatically come with a serving of apple slices and half as many French fries as before. Parents can also request no fries and twice as many apples. The soft drink will be replaced with white or chocolate fat free milk.
The new meals will be introduced in September and all 14,000 McDonald's chains will be serving them by April of 2012. The restaurant chain announced that the changes to the kids' meals will mean an average reduction in calories of 20%. The Rudd Center for Food Policy and Obesity reported that while the current version of the chicken meal has 520 calories and 26 grams of fat, the new meal will contain 410 calories and 19 grams of fat.
The fast food industry came under fire in November of 2010 after The Rudd Center studied the marketing practices aimed at youngsters. According to the study, over $4 billion was spent on kids' advertising. Additionally, the Rudd Center study found that 40% of kids aged 2-11 asked to go to McDonald's at least once a week while 84% of parents reported going there at least once in the past week, with their children. Although the nation still has a long way to go in curtailing childhood obesity, the menu changes McDonald's has proposed are a significant response to both parental and consumer pressure.
Sources:
http://www.nytimes.com/2011/07/27/business/mcdonalds-happy-meal-to-get-healthier.html?_r=2
http://www.yaleruddcenter.org/
http://www.aboutmcdonalds.com/mcd/media_center/press_kits/commitments_to_offer_improved_nutrition_choices.html
Reviewed July 28, 2011
by Michele Blacksberg R.N.
Edited by Shannon Koehle
Tags: