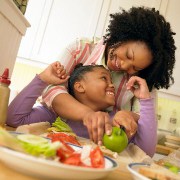 Photo: Getty Images
Statistics show that more than 23 million children and teenagers in the U.S. are obese or overweight. There is no question, these statistics from HealthierKidsBrighterFutures.org illustrate that childhood obesity is now considered an epidemic.
The site states that "Childhood obesity puts nearly one third of America's children at early risk for Type 2 diabetes, high blood pressure, heart disease and even stroke – conditions usually associated with adulthood."
One way to help kids stay at a healthy weight is to assist them in balancing their calories. According to the CDC, "One part of balancing calories is to eat foods that provide adequate nutrition and an appropriate number of calories. You can help children learn to be aware of what they eat by developing healthy eating habits, looking for ways to make favorite dishes healthier, and reducing calorie-rich temptations."
This includes the following recommendations as listed on their site:
• Provide plenty of vegetables, fruits, and whole-grain products.
• Include low-fat or non-fat milk or dairy products.
• Choose lean meats, poultry, fish, lentils, and beans for protein.
• Serve reasonably-sized portions.
• Encourage your family to drink lots of water.
• Limit sugar-sweetened beverages.
• Limit consumption of sugar and saturated fat.
• Help kids stay active.
Obviously, keeping active is of utmost importance. The CDC recommends that children and teens should participate in at least 60 minutes of moderate-intensity physical activity daily.
They encourage parents to be active as well, to set an example for their children. Being physically active can include everything from taking a walk as a family, to playing tag or getting kids involved in organized sports or dance classes.
The CDC also recommends that in addition to encouraging physical activity, you should help your children avoid too much sedentary time. They suggest no more than two hours total a day of screen time in front of a computer or television.
The benefits of being active for children truly "outweigh" the consequences of being sedentary. The CDC says that regular exercise helps build strong muscles and bones, stabilize weight, decreases the risk of developing type 2 diabetes, as well as provides better sleep habits and a better outlook on life.
KidsHealth.org agrees stating, "Healthy, physically active kids also are more likely to be academically motivated, alert, and successful. And physical competence builds self-esteem at every age."
Sources:
"Tips for Parents – Ideas to Help Children Maintain a Healthy Weight – CDC.gov." Centers for Disease Control. Web 15 Sept. 2011
http://www.cdc.gov/healthyweight/children
"Childhood Obesity is a National Epidemic – HealthierKidsBrighterFutures.org." Healthier Kids Brighgter Futures. Web 15 Sept. 2011.
http://www.healthierkidsbrighterfutures.org/about
"Healthy Eating Habits - KidsHealth.org." Kids Health Parent Nutrition Center. Web 15 Sept. 2011.
http://kidshealth.org/parent/nutrition_center/staying_fit/active_kids.html#cat20740
Joanne Sgro-Killworth is a Television Fitness Expert, Certified Personal Trainer and Sport Nutritionist. She is Certified in Pilates, Pre-natal/Post-Partum, Yoga and Senior Fitness. She specializes in Weight Loss, Post-Rehab and Post Cancer Training. Joanne's fitness plans and recipes are available globally on her website www.fitnessanswer.com. She resides in the Phoenix, AZ area with her husband, where she runs her personal training business, Fitness Answer, LLC.
Reviewed September 15, 2011
by Michele Blacksberg RN
Edited by Jody Smith
Tags: