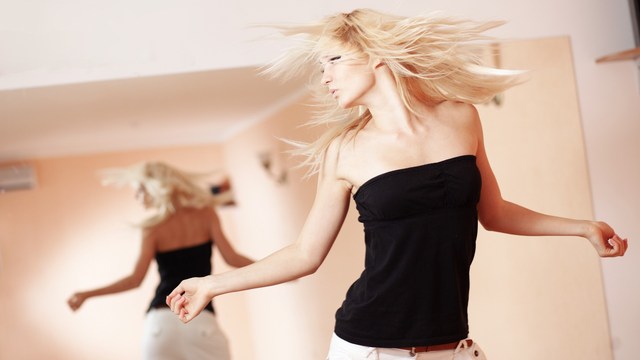 Alena Ozerova/PhotoSpin
According to the Centers for Disease Control and Prevention, obesity has more than doubled in children and tripled in adolescents in the past 30 years." An even more alarming statistic from the CDC is that "the percentage of adolescents aged 12–19 years who were obese increased from 5% to 18% over the same period."
The question of whether or not resistance training or aerobic activity is more beneficial to combat these statistics has been a debated topic in the fitness industry. Specifically, what type of exercise works best for teenage girls?
A new study suggests that aerobic activity is better for them in terms of losing fat and diabetes prevention. The study is entitled "Aerobic Exercise But Not Resistance Exercise Reduces Intrahepatic Lipid Content and Visceral Fat and Improves Insulin Sensitivity in Obese Adolescent Girls."
The study was featured on the American Journal of Physiology - Endocrinology and Metabolism site.
According to ScieneDaily.com, the study looked at nearly 45 obese adolescent girls and assigned them to three groups.
"One group was assigned to perform 60 minutes of aerobic exercise three days a week for three months, either running on a treadmill or using an elliptical trainer. A second group was assigned to perform the same amount of resistance exercise, but instead participated in aerobic exercise program, doing ten whole body resistance exercises using weight machines over the course of each hour-long session. A third group was asked not to participate in any structured physical activity program over the course of the study."
Scientific measurements of specific "total fat, visceral fat, liver fat, and fat embedded in their muscles" were recorded for each participant in the beginning and end of the study. Other data was also taken including "the volunteers' insulin sensitivity, a risk factor for diabetes, as well weight and physical fitness."
The results? The active two groups obviously had less overall fat, compared to the sedentary group. Of the two active groups, the aerobics only teens triumphed in both "visceral and liver fat loss and insulin improved their sensitivity."
When reading the study article on ScienceDaily.com, I immediately had a flashback to my Flashdance days. Yes, I was an 80's teenager and each day in 8th grade, I would rush home from school, don my purple leotard with the ruching in the center and workout in my room while watching "Dancin' On Air."
For those of you living outside the Philadelphia area, you would know it as "Dance Party USA," shot in the original American Bandstand Studios. If you still do not know what I am talking about, ask Kelly Ripa, as she was a regular on the show.
The reason I mention this is that I was an overweight teen. After several months of my pink shag rug dance party, the purple leotard got too big on me. I also needed to buy a smaller size of lycra tights.
I had no scientific data to support my study, but can tell you I did not have matching purple dumbbells in my hands while dancing and jumping. Oh, yeah and guess what, I had FUN!
Sources:
"Childhood Obesity Statistics – CDC.gov." The Centers for Disease Control and Prevention. Science Daily. Web. Nov. 7th 2013.
http://www.cdc.gov/healthyyouth/obesity/facts.htm
"For Obese Teen Girls, Aerobic Exercise May Trump Resistance Training in Health Benefits – ScienceDaily.com." Science Daily. Web. Nov. 7th 2013.
http://www.sciencedaily.com/releases/2013/11/131107123252.htm
"Aerobic exercise but not resistance exercise reduces intrahepatic lipid content and visceral fat and improves insulin sensitivity in obese adolescent girls – Physiology.org." AJP: Endocrinology and Metabolism, - S. Lee, et. al. Web. Nov. 7th 2013
http://ajpendo.physiology.org/content/early/2013/09/11/ajpendo.00285.2013
Joanne Sgro-Killworth is a Television Fitness Expert, Certified Personal Trainer and Sport Nutritionist and Publicist. She is Certified in Pilates, Pre-natal/Post-Partum, Yoga and Senior Fitness. She specializes in Weight Loss, Post-Rehab and Post Cancer Training.
Joanne's fitness plans, recipes and lifestyle advice are available globally on her website www.happiwoman.com. She resides in the Phoenix, AZ area with her husband and son, where she runs her fitness and publicity business, Fitness Answer, LLC.
Reviewed November 7, 2013
by Michele Blacksberg RN
Edited by Jody Smith