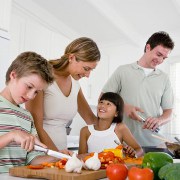 Photo: Getty Images
Getting your kids to eat healthy could just be a recipe away. Letting your kids help in the kitchen gives them both accountability and pride in their food choices.
Below are some suggestions from KidsHealth.org on age appropriate kitchen tasks:
• Preschoolers see how the dishes they eat are put together — and they get hands-on experience, which is a great way to learn and feel like they are helping out.
• School-age kids can learn some cooking basics and use their math skills as they help combine ingredients for recipes. You also can use the time to talk about good nutrition and why you chose the ingredients you're using. It can lay the groundwork for healthy eating later on.
• Teens might appreciate the chance to improve their cooking skills — good preparation for when they'll need to cook for themselves. Teens also might be interested in trying different cuisines. Do they love Asian food? Visit an Asian market and put together something authentic.
RaiseHealthyEaters.com suggests, "Experiment with different fruit, nuts, cheese and greens." Below are some of my original, favorite salad recipes which are both kid and family friendly.
A side note, please modify ingredients if your child has food allergies such as peanuts or other nuts.
CHEESEBURGER SALAD
6 ounces of lean ground meat
1 large tomato sliced into wedges
1 cucumber sliced widthwise
1 cup of romaine lettuce
2 tsp. of Dijon mustard
3 tbs. Of Greek or plain yogurt
¼ cup of shredded cheddar cheese
¼ tsp. of garlic powder
Olive oil
Cook meat thoroughly in medium skillet, drain excess fat and set aside.
Mix together mustard, dill, yogurt and garlic powder and set aside.
In separate bowl mix lettuce, cucumber, and tomatoes. Top with ground meat, dressing and cheddar cheese.
FRUITY, NUTTY CHICKEN SALAD
6 ounces of cooked chicken breast cut into cubes
½ cup of chopped celery
¾ cup of chopped green apple
2 ounces of chopped pecans
1 tbs. of raisins
½ cup of Greek or low-fat plain yogurt
In medium bowl, stir together chicken, celery, apple, pecans and raisins. Fold the yogurt in gently and toss gently to coat.
PEANUT NOODLE SALAD
• ¼ cup of fresh, chopped mushrooms
• 1 shredded carrot
• 1/8 cup of chopped green onion
• 2 ounces of bean sprouts
• 1 grilled chicken breast, sliced
• 1 cup of mixed salad greens
• ½ cup of cooked whole wheat pasta
FOR DRESSING
• 1/8 cup of finely chopped peeled fresh ginger
• 1 tsp. natural peanut butter
• 1 tbsp. Asian sesame oil
• 2 tbsp. rice vinegar
• Garlic powder and salt to taste
Combine all ingredients together in large bowl. Toss with dressing mixture.
MONTE CRISTO SANDWICH SALAD
• 2 cups of spring mix lettuce
• 2 tbsp. of grated Swiss cheese
• 6 ounces of cooked turkey, diced
• 1 tbsp. of Dijon mustard
• 1 tbsp. of chopped pecans
• 1 tsp. of dried cranberries
Toss all ingredients together in salad bowl with Dijon mustard.
Online References:
"Healthy Eating Habits - KidsHealth.org." Kids Health Parent Nutrition Center. Web 20 Sept. 2011.
http://kidshealth.org/parent/nutrition_center/healthy_eating/kids_cook.html#cat20737
"8 Salads That Will Get Your Kids Hooked – RaiseHealthyEaters.com." Raise Healthy Eaters. Web 20 Sept. 2011
http://www.raisehealthyeaters.com/2010/11/8-salads-that-will-get-your-kids-hooked
Joanne Sgro-Killworth is a Television Fitness Expert, Certified Personal Trainer and Sport Nutritionist. She is Certified in Pilates, Pre-natal/Post-Partum, Yoga and Senior Fitness. She specializes in Weight Loss, Post-Rehab and Post Cancer Training.
Joanne's fitness plans and recipes are available globally on her website www.fitnessanswer.com. She resides in the Phoenix, AZ area with her husband, where she runs her personal training business, Fitness Answer, LLC.
Reviewed September 20, 2011
by Michele Blacksberg RN
Edited by Jody Smith
Tags: