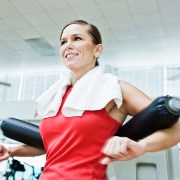 Photo: Getty Images
LIFE TIME FITNESS® defines itself as, "A Healthy Way of Life Company." According to the LIFE TIME FITNESS® Public Relations Department and its website, "LIFE TIME FITNESS® operates 92 Healthy Way of Life destinations in 26 states nationwide."
Public Relations Specialist, Karen Jayne Leinberger says that LIFE TIME FITNESS® members receive access to a variety of services when they join one of their clubs, "The broad range of amenities, programs and services we offer exceed that of most other health and fitness center alternatives available to consumers. We offer different types of membership plans for individuals, couples and families."
Membership costs at LIFE TIME FITNESS® vary, but dues for a standard individual membership range from $50-$80 monthly. The LIFE TIME FITNESS® Mission Statement is, "To provide an educational, entertaining, friendly and inviting, functional and innovative experience of uncompromising quality that meets the health and fitness needs of the entire family."
LIFE TIME FITNESS® family and couple memberships range from $130 to $160 per month.
They have several levels of memberships and clubs including Bronze, Platinum and premier memberships categorized as Onyx. Dues for an Onyx level membership start at $90 per month for an individual membership and up to $250 per month for a family membership.
LIFE TIME FITNESS® is a place to bring the entire family for such activities as swimming or use of the childcare while parents are utilize the club. Children under the age of 12 can be added to the primary member's monthly dues for a nominal fee.
Included in cost of the membership are a variety of services such as group fitness classes, educational seminars and fitness assessments, towel and locker service and a subscription to the LIFE TIME FITNESS® magazine entitled, Experience Life. Additional paid for services such as personal training and nutritional counseling prices vary by club location.
Members can join without a long-term commitment including an initial 14-day money back guarantee. Leinberger says that, "Memberships are month-to-month and can be cancelled by giving up to sixty days advance notice." She stated their cancellation policy is as follows:
"To terminate a membership, a member must provide written notice of termination in person at a Life Time center. If a member does not provide timely advance written notice, the member will pay monthly membership dues at the regular rate for the current and following month, during which time the member will continue to have center access."
"We believe our value proposition and member focused approach creates loyalty among our members," added Leinberger.
Online References:
http://www.lifetimefitness.com/aboutlifetime/company/index.cfm?strWebAction=fact_sheet
http://clubs.lifetimefitness.com/Life-Time-Fitness-Clubs/
http://www.lifetimefitness.com/aboutlifetime/company/index.cfm?strWebAction=mission
Edited by Malu Banuelos