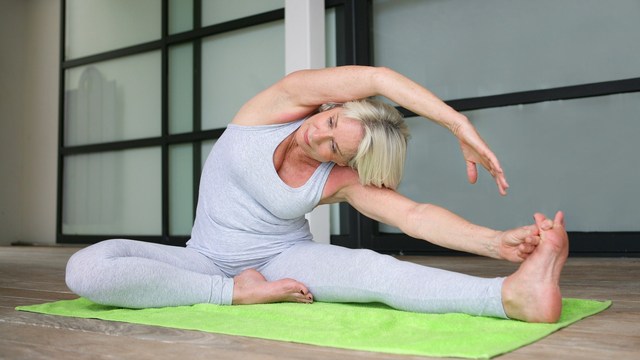 Auremar/PhotoSpin
I took a seasonal holiday job a number of years ago at a women's clothing store whose clientele were mainly women age 50 and older. In training, the store manager, showed me how I should dress customers with low hanging belts to give the illusion of a waist.
The ladies were all lovely, but I was a bit perplexed. If they weren't happy with their shape, why not try to change it rather than camouflage it?
With my fitness background, I tended to look at their bodies differently. As a Pilates instructor, I saw many menopausal and post menopausal women get their waist back and tighten up their middles and their belts. They beat the bulge.
Women at this stage of their life are often bombarded with so much information, it is tough to literally "figure" out what really works.
So what exactly causes belly fat during menopause? The Mayo Clinic says aging plays a role.
"Muscle mass typically diminishes with age, while fat increases. Loss of muscle mass also decreases the rate at which your body uses calories, which can make it more challenging to maintain a healthy weight."
They suggest diet and exercise, which I agree can play a major role in helping with menopause. However, what we may think is the right diet and the right exercises, may not be the "right" answers at this point in a woman's life.
MayoClinic.com also says that hormones and hereditary are major factors.
"Many women notice an increase in belly fat as they get older — even if they aren't gaining weight. This is likely due to a decreasing level of estrogen, which appears to influence where fat is distributed in the body. The tendency to gain or carry weight around the waist — have an 'apple' rather than a 'pear' shape — might have a genetic component as well."
So how do you combat menopause, belly fat, hormones and heredity? This may seem like an overwhelming feat, but if you break it down into eating specific foods, avoiding others and incorporating the right type of exercises, you'll give your belly more than a one-two punch.
Here are 10 ways to beat belly fat bulge:
1) Avoid Refined Carbohydrates
Complex carbohydrates like whole grains offer more nutrients and fiber than do refined products like enriched bread, cereal, pasta and snack food. Refined carbs can throw off your glucose (blood sugar) balance and alter your hormone levels. This can bring on food cravings that can take you off your intended course.
2) Avoid Saturated Fats in Mayo, Cream Cheese and Ice Cream
Want to enjoy the taste of your food without craving sugar, and build up some muscle instead of belly fat? Replace saturated fats with unsaturated fats like avocados, fish, nuts and olive oil.
3) Eat Monounsaturated Fats
Swap your mayo for some avocado. Spread on the almond butter instead of cream cheese. Scoop up the Greek frozen yogurt instead of ice cream. Other good choices are nuts and seeds which pack healthy fats and leave you satisfied.
4) Raw is the Rage
Go for foods rich in nutrients and high in water content. Eat lots of delicious fresh fruits and vegetables in their natural raw state, combined with smaller amounts of denser plant foods such as sprouts, seaweeds, nuts, seeds, and fatty fruits like olives and avocados.
5) Could Caffeine Be the Belly Fat Culprit?
"When you combine stress with caffeine, it raises cortisol levels more than stress alone. In one study by the University of Oklahoma, consuming the equivalent of 2½ to 3 cups of coffee while under mild stress boosted cortisol by about 25%—and kept it up for 3 hours," Prevention.com reports.
"Over time, this hormonal imbalance can lead to hardening of the arteries, thinning bones, increasing waistline girth, and impaired functioning of the immune system." Womensinternational.com says. "If you find that you are struggling with stubborn belly fat coupled with fatigue, moodiness and poor sleep despite your best efforts at a healthy lifestyle, you may be suffering from a hormone imbalance."
6) Be Mindful About Menopause
Exercise trends come and go, but two forms of mind/body exercises which have been a foundation for wellness are yoga and Pilates. Through years of training women in various stages of menopause, I have found that rebuilding that mind/body connection, often forgotten throughout childbearing and the aging process, helps not only to relieve the symptoms of menopause but carries over into a better quality of life.
7) Make an Impression with Pilates
"Imprinting" is a Pilates prep exercise and it's how I start out many of my classes. To start, lie on your back with your arms by your sides, knees bent and feet flat on the floor.
I want you to notice where your body rests on the mat with a natural curve, leaving a small space between your low back and the mat. You are now in what is called neutral spine.
Next, you should relax your shoulders, making them release to the floor. This means, making sure they are not curved forward nor pressed upward towards your ears.
Inhale and focus on allowing your spine to sink into the mat, imprinting your low back into the mat or floor. Exhale and release the low back, coming back to leaving that space between the low back and the floor.
You will want to take your time and do this for three to five minutes.
8) Brace Your Abs Against Belly Fat
The abs-bracing exercise can help bring awareness to your deep core muscles such as the transverse abdominus.
Lie on your back with your knees bent and legs pressing together. Bring your hands behind your head and flex your toes up toward the ceiling.
Inhale to prepare and begin to exhale, pull your navel in toward your spine and gaze down toward your navel. Think about creating the letter "C" with your body. Breathe in again deeply as you lower back down.
Repeat 10 times.
9) Create Purr-fect Abs with the Pilates Cat Exercise,
Kneel on all fours, hands aligned directly under shoulders, knees aligned under hips. Inhale, then exhale and bring chin towards chest rounding spine. Inhale, then exhale and return back to center.
Repeat 6-10 times
10) Yoga: From Downward Dog to Playing Dead with Corpse Pose
As featured on Livestrong.com, Dr. Timothy McCall originally told Yoga Journal that stress and cortisol can add to belly fat. " A spare tire around the belly may indicate insulin resistance -- a precursor to Type 2 diabetes ... To practice Savasana, a Sanskrit word that means Corpse pose, lie down and take a few deep breaths. Spend five minutes relaxing all your major muscle groups. Conscious relaxation can help you manage stress and prevent excess belly fat."
Sources
"Belly fat in women: Taking — and keeping — it off - MayoClinic.org." The Mayo Clinic. Web 12 Sept. 2014.
http://www.mayoclinic.org/healthy-living/womens-health/in-depth/belly-fat/art-20045809
"Foods Not to Eat or Drink in Menopause - LiveStrong.com." Live Strong. Web 12 Sept. 2014.
http://www.livestrong.com/article/305813-foods-not-to-eat-or-drink-in-menopause/
"A Ridiculously Easy New 9-Switch Plan To Build Muscle, Not Belly Fat – Prevention.com." Prevention.com. Web 12 Sept. 2014
http://www.prevention.com/food/healthy-eating-tips/best-healthy-fats-lose-belly-fat-fast
"DHEA: Surviving and Thrivingn- WomensInternational.com." Connections An Educational Resource from Women's International Pharmacy. Web 12 Sept. 2014.
DHEA Newsletter
http://www.womensinternational.com/connections/dhea.html
"Yoga Asanas for Belly Fat - LiveStrong.com." Live Strong. Web 12 Sept. 2014.
http://www.livestrong.com/article/477932-yoga-asanas-for-belly-fat
Joanne Sgro-Killworth is a Television Fitness Expert, Certified Personal Trainer and Sport Nutritionist and Publicist. She is Certified in Pilates, Pre-natal/Post-Partum, Yoga and Senior Fitness. She specializes in Weight Loss, Post-Rehab and Post Cancer Training.
Joanne's fitness plans, recipes and lifestyle advice are available globally on her website http://www.happiwoman.com/ She resides in the Phoenix, AZ area with her husband and son, where she runs her fitness and publicity business, JSK PR, http://www.jskpr.com/
Reviewed September 16, 2014
by Michele Blacksberg RN
Edited by Jody Smith