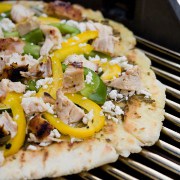 Photo: Getty Images
This month we are marking the second annual National Childhood Obesity Awareness Month (COAM). According to HealthierKidsBrighterFutures.org, "More than 23 million children and teenagers in the U.S. are obese or overweight, a statistic that health and medical experts consider an epidemic. While obesity rates have soared among all age groups in this country, obesity is a particularly grave concern for children."
Concerned parents can help be proactive about childhood obesity by first providing and implementing healthier meals for kids. It is also important to include your kids' input into meals and make them fun.
There are lots of ways to eat healthy and still enjoy some of your favorite foods. Make mealtime family time and it will be easier to monitor your kids intake and food choices.
In fact, according to Kidshealth.org, "Family meals are a comforting ritual for both parents and kids. Children like the predictability of family meals and parents get a chance to catch up with their kids. Kids who take part in regular family meals are also: more likely to eat fruits, vegetables, and grains; less likely to snack on unhealthy foods; less likely to smoke, use marijuana, or drink alcohol."
I cannot think of a food that brings a family together more than pizza. I am not talking takeout either. I am talking about implementing one of America's favorite foods as part of your food repertoire. Below are some of my favorite pizza-based recipes:
PIZZA PIE EGGS
• 1/4 Cup of Ricotta Cheese
• ¼ Cup of tomato sauce
• 2 Egg
• 2 Eggwhites
• ½ cup of thawed frozen spinach
• 1/8 cup of grated Mozarella Cheese
• 1 tbsp. of Parmesan Cheese
• Olive Oil Cooking Spray
Pre-heat oven to 350 degrees. Spray a muffin pan with non-stick cooking spray. Beat eggs and eggwhites. Add cheeses and mix well. Cook and drain spinach well. Add spinach to egg/cheese mixture. Divide mixture evenly into muffin pan. Bake for 20 minutes. Serving size two cups.
PARMESAN PIZZA OMELETTE
• 1 Egg
• 2 Eggwhites
• ¼ Cup of tomato sauce
• 1 cup of mushrooms
• 1 tbsp. of Parmesan cheese
• 2 tbsp. of Mozarella cheese
Spray skillet with olive oil cooking spray. Cook mushrooms until tender. Whisk eggs in small mixing bowl. Fold in the rest of the ingredients. Add to mushrooms and cook on medium heat until eggs are set. Flip and cook through on other side.
GRILLED CHICKEN PORTOBELLO PIZZA
8oz Chicken Breast, diced
1 tsp. olive oil
1 clove of garlic, chopped
12 ounces of thickly sliced portobello mushrooms
6 ounces of shredded mozzarella cheese
2 ripe roma tomatoes sliced
Preheat oven to 450. Mix together oil and garlic. Dip mushrooms and tomatoes in mixture and place on indoor or outdoor grill. When veggies are done, use remainder of mixture to coat chicken and place chicken on grill. Arrange mushrooms close together (like puzzle) on baking sheet. Place grilled chicken and tomatoes on top of mushrooms. Top with cheese and bake for about 3 minutes
RICOTTA PIZZA CHICKEN
• 1 small whole wheat tortilla
• ¼ cup of ricotta cheese
• 6 oz. chicken breast; cooked and chopped
Spread a whole wheat tortilla with ricotta cheese. Top with already cooked chicken and bake until golden brown. Serve with side spinach salad.
Sources:
"Childhood Obesity is a National Epidemic – HealthierKidsBrighterFutures.org." Healthier Kids Brighgter Futures. Web 13 Sept. 2011.
http://www.healthierkidsbrighterfutures.org/about
"Healthy Eating Habits - KidsHealth.org." Kids Health Parent Nutrition Center. Web 13 Sept. 2011.
http://kidshealth.org/parent/nutrition_center/healthy_eating/habits.html?tracking=P_RelatedArticle#cat20740
Joanne Sgro-Killworth is a Television Fitness Expert, Certified Personal Trainer and Sport Nutritionist. She is Certified in Pilates, Pre-natal/Post-Partum, Yoga and Senior Fitness. She specializes in Weight Loss, Post-Rehab and Post Cancer Training. Joanne's fitness plans and recipes are available globally on her website www.fitnessanswer.com. She resides in the Phoenix, AZ area with her husband, where she runs her personal training business, Fitness Answer, LLC.
Reviewed September 13, 2011
by Michele Blacksberg R.N.
Edited by Jody Smith
Tags: