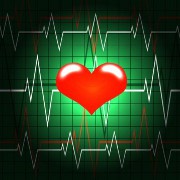 Photo: Getty Images
So far the heart rhythm disorders (of which atrial fibrillation is most common) were generally attributed to any or a combination of factors such as hyperthyroidism, alcohol use, pulmonary embolism, pneumonia, other cardiac conditions, enlargement of the left ventricle walls, coronary heart disease, high blood pressure, cardiomyopathy, sick sinus syndrome and pericarditis (1).
But now research conducted by the University of Adelaide in Australia has found increased positive correlation between obesity and presence of atrial fibrillation among patients.
As per Dr. Hany Abed*, cardiologist and PhD candidate working with the university's Centre for Heart Rhythm Disorders and the Discipline of Medicine, obesity brings about a change in the size and structure of the heart muscles as well as the method of working, contraction and its electrical functioning.
It is this change in the heart's electrical functioning of the obese that causes atrial fibrillation among them (2). The current basic lab researches conducted on sheep have confirmed that obesity among sheep causes electrical abnormalities in their heart chamber eventually causing atrial fibrillation.
As per Dr. Abed, atrial fibrillation gets diagnosed incidentally during health check-ups of those (especially the obese) who come seeking consultation for symptoms such as dizziness, palpitations of the heart, chest pains, etc. He is quick to add that the first signs of heart rhythm disorder surfaces when someone has had a stroke.
According to Abed, while obesity can be observed in all age groups, it is the elderly who are most at risk of experiencing atrial fibrillation. Unfortunately, it is this group that is becoming fatter and increasing their risks.
By way of hope he points out that, "The costs to the health system and the community are enormous. However, early results in our research show that atrial fibrillation can be reversed if people lose weight." (3)
* Dr Abed is undertaking his PhD under the supervision of Professor Prash Sanders Head of the Centre for Heart Rhythm Disorders at the University of Adelaide and Royal Adelaide Hospital) and Professor Gary Wittert (Head of the Discipline of Medicine at the University of Adelaide and Chief Investigator in the NHMRC Centre of Clinical Research Excellence in Nutritional Physiology.)
SOURCES:
1. Atrial Fibrillation, Page 2; eMedicineHealth.com, Web; 19th August, 2011; http://www.emedicinehealth.com/atrial_fibrillation/page2_em.htm#Atrial Fibrillation Causes
2. New Research Links Obesity With Heart Rhythm Disorder; Science Daily News, Web; 19th August, 2011; http://www.sciencedaily.com/releases/2011/08/110816112153.htm
3. New Research Links Obesity With Heart Rhythm Disorder; University of Adelaide- University News and Events, Web; 19th August, 2011; http://www.adelaide.edu.au/news/news47801.html
INFORMATION IN THIS ARTICLE IS NOT MEDICAL ADVICE. ALL INFORMATION GIVEN IS TO BE CHECKED WITH YOUR DOCTOR BEFORE IMPLEMENTING OR TAKING THEM AS STANDARD OR VERIFIED.
Mamta Singh is a published author of the books
Migraines for the Informed Woman – Tips From A Sufferer: ISBN: 978-81-291-1517-1
(Publisher: Rupa & Co. URL: http://www.amazon.com/Migraines-Informed-Woman-Tips-Sufferer/dp/8129115174/ref=sr_1_2?ie=UTF8&s=books&qid=1298990756&sr=1-2)
Mentor Your Mind – Tested Mantras For The Busy Woman: ISBN: 978-81-207-5973-2
(Publisher: Sterling Publishers; URL: http://www.amazon.com/Mentor-Your-Mind-Tested-Mantras/dp/8120759737/ref=sr_1_1?ie=UTF8&qid=1316063179&sr=8-1)
and the upcoming
The Urban Woman's Integrated Fitness Guide
(Publisher: Hay House India)
She is also a seasoned business, creative and academic writer. She is a certified fitness instructor, personal trainer & sports nutritionist through IFA, Florida USA. Mamta is an NCFE-certified Holistic Health Therapist SAC Dip U.K.
She is the lead writer and holds Expert Author status in many well-received health, fitness and nutrition sites. She runs her own popular blogs on migraines in women and holistic health.
Mamta holds a double Master's Degree in Commerce and Business. She is a registered practitioner with the UN recognised Art of Living Foundation. Please visit www.mamtasingh.com
Reviewed September 15, 2011
by Michele Blacksberg RN
Edited by Jody Smith
Tags: