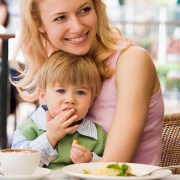 Photo: Getty Images
Childhood obesity rates in the United States have tripled in the adolescent population since 1980. In younger children the numbers have doubled. According to the Department of Health and Human Services the causes of childhood obesity result from several causes including unhealthy eating, inactivity, genetics, and social factors. Health and Human Services reported that in children eating habits that are contributing to weight gain include many meals eaten "away-from-home" or in quick service or fast-food restaurants. This is especially true for children who fall into the adolescence category.
Recently the National Restaurant Association (NRA) announced that 19 members will be adapting their children's menus to reduce the amount of calories offered to children. The NRA has created this voluntary Kids LiveWell initiative because of pressure by public health officials and consumer advocates to improve the nutritional contents of offerings. Under this Kids LiveWell initiative restaurants will change their children's menu to focus on fruits and vegetables, lean meats, whole grains and lowfat dairy items. They will also reduce the amount of unhealthy fats, excess sugars and excess sodium in their meals. There will be at least one item that has an entrée, side and drink that is less than 600 calories. Some of the companies that have agreed to participate in Kids LiveWell include Au Bon Pain, Brinker International's, Chili's Grill & Bar, Cracker Barrel, Denny's, El Pollo Loco, Outback Steakhouse, OSI and Sizzler.
Robert Post, deputy director of the U.S. Department of Agriculture's Center for Nutrition Policy and Promotion commented "This is a great start to help empower consumers -- kids and parents especially -- with more healthier choices at restaurants." I agree that is a good start but I think a big part of the solution to childhood obesity is changing the way the entire family's behavioral patterns are around food and other daily activities – not just the eating habits of children. In my experience children eat what their parents eat. Changing the children's menu will not really change the way children eat unless the parents stop eating the foods that are making them and their children overweight. I think the changing the emphasis of restaurants to include flavorful fruits, vegetables, whole grains and lean meats could be a revolution in the way Americans eat.
Live Vibrantly,
Dr. Dae
Sources:
http://www.reuters.com/article/2011/07/13/us-restaurants-children-idUSTRE76C5MQ20110713
http://aspe.hhs.gov/health/reports/child_obesity/
Reviewed July 14, 2011
by Michele Blacksberg R.N.
Edited by Alison Stanton
Dr. Dae's website: www.healthydaes.com
Dr. Dae's book: Daelicious! Recipes for Vibrant Living can be purchased @ www.healthydaes.com
Dr. Dae's Bio:
"Dr. Dae" (pronounced Dr. Day) Daemon Jones is a Naturopathic Physician who treats the whole person using safe and effective combinations of traditional and natural methods to produce optimal health and well-being in the lives of her patients.
Tags: