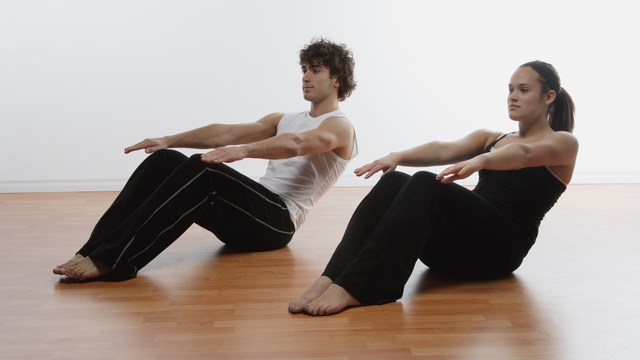 Design Pics/PhotoSpin
I can remember several years ago hearing a fellow instructor chatting with her fiancé who was temporarily relocated overseas for business. She hung up the phone and said to me, "He had to go because he was going to be late for his Pilates class."
She could not believe that her macho guy had gotten addicted to Pilates. The truth of the matter is Pilates was invented by a man, Joseph Pilates. It is also important for men, especially male athletes.
On the forefront of furnishing the man cave with Pilates equipment are the NBA Nets. Several years ago their strength and conditioning coach implemented it as part of their regimen.
According to USAToday.com, "The players were so dependent that throughout the NBA playoffs in 2002, a leading Pilates company shipped special equipment to the team's hotel on road trips."
Pilates is an internal core strength workout that builds a mind/body connection. That deep connection with the body's center and core is also deeply important for all of the required moves in basketball such as running, jumping, pivoting and shooting.
So what about your regular guy, who just likes to shoot a few hoops on the weekends or play a few holes with his buddies on Fridays? How can Pilates benefit him?
The truth of the matter is, as a Pilates instructor, I've seen Pilates prevent injury and improve their flexibility, so a guy can be the weekend warrior he wants to be. I've also seen it tremendously improve their golf game.
As Joseph Pilates is quoted on Centerworks.com, "A man is as young as his spinal column."
However, Pilates is also good for "at home recreation" both off-court and off-course. There is research supporting Pilates helping for a better sex life.
According to PilatesFitness.com, "Strong pelvic floor muscles help to improve bedroom performance immensely and sexual dysfunction may be decreased through Pilates."
Some Pilates experts claim that it may help ward off prostate cancer. According to the site, "It is believed that the deterioration of the pelvic floor muscles is the major factor contributing to prostate cancer. All Pilates exercises focus on activating and engaging pelvic floor muscles."
While no significant studies support the above mentioned claim, there is some research that exercise may in fact prevent prostate cancer in certain populations.
According to Examiner.com, "The researchers concluded that in a prospective cohort of men undergoing biopsy, increased exercise, measured as MET hours per week, was found to be associated with prostate cancer risk reduction among Caucasian but not African American."
So, while we and our guys work to stay younger, stronger, healthier and sexually vital, we can take the advice of Joseph Pilates. "We retire too early and we die too young, our prime of life should be in the 70's and old age should not come until we are almost 100."
Sources:
"Male athletes get no pain, big gains from Pilates – Jill Lieber – USAToday.com." USA Today. Web 30 April 2013.
http://usatoday30.usatoday.com/sports/2003-08-17-pilates_x.htm
"Pilates exercises may prevent prostate cancer and enhance your sexual life – PilatesFitness.com. Pilates Fitness. Web 30 April 2013.
http://www.pilatesfitness.com.sg/pilates-exercises-prevent-prostate-cancer-enhance-sex-life
"Exercise reduces prostate cancer risk only for some men – Robin Wulffson, M.D. – Examiner.com." Examiner. Web 30 April 2013
http://www.examiner.com/article/exercise-reduces-prostate-cancer-risk-only-for-some-men
"Quotes from Joseph H. Pilates - The creator and inventor of the Pilates Method – Centerworks.com – Aliesa George." Center Works. Web 30 April 2013.
http://www.centerworks.com/joseph-pilates-quotes/
Joanne Sgro-Killworth is a Television Fitness Expert, Certified Personal Trainer and Sport Nutritionist. She is Certified in Pilates, Pre-natal/Post-Partum, Yoga and Senior Fitness. She specializes in Weight Loss, Post-Rehab and Post Cancer Training.
Joanne's fitness plans and recipes are available globally on her website www.fitnessanswer.com/ She resides in the Phoenix, AZ area with her husband and son, where she runs her personal training business, Fitness Answer, LLC.
Reviewed May 3, 2013
by Michele Blacksberg RN
Edited by Jody Smith