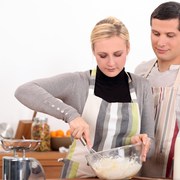 Auremar/PhotoSpin
With Easter comes lots of food, and where there's lots of food, there are usually leftovers.
According to DaytonDailyNews.com, "The usual menu for Easter includes ham, hard-boiled eggs and lots of chocolate bunnies. Although no one usually complains about leftover chocolate bunnies, most people tire quickly of leftover ham and hard-boiled eggs."
My solution is to first ration the chocolate for both the kids and you! Freeze some of it and take it out once a week. An article on HuffingtonPost.com suggested donating leftover candy to a homeless shelter.
The article cited statistics from the National Confectioners Association saying that the amount of Easter candy bought this year was "90 million chocolate Easter bunnies, 700 million marshmallow Peeps, and about 16 billion jelly beans."
Now on to the eggs. The website quoted a suggestion from chef Mavis Linnemann-Clark of The Delish Dish. "Chop up leftover Easter eggs and combine them with celery, mayo, mustard and fresh herbs, and you have a killer egg salad."
In my Italian home there is always leftover ham, lamb and ricotta cheese from our homemade Easter pies. Here are some of my original day-after Easter recipes.
EGG SALAD & HAM WRAP
• 1 whole hard-boiled egg
• ¼ cup of cooked, chopped ham
• 2 hard-boiled egg whites
• Boston lettuce
• 1 teaspoon of dried parsley
• 1 tablespoon of Dijon mustard
Mix all ingredients except the lettuce in a bowl.
Add egg/ham mixture to the lettuce, fold and enjoy.
LAMB & EGGPLANT ROLL-UPS
• ½ small eggplant, sliced thin lengthwise
• 6 ounces of lamb, sliced thin
• 2 tablespoons of olive oil
• Garlic powder
• Pinch of salt
Coat eggplant with olive oil, season with garlic and salt.
Grill eggplant on indoor or outdoor grill.
Place each piece of lamb on each piece of eggplant, roll up and serve.
ITALIAN CHEESECAKE FILLING
• ½ cup of ricotta cheese
• 1 packet of Splenda or Stevia powder
• 1/4 cup unsweetened vanilla almond milk
• 1 teaspoon each of orange and lemon rind
• Dash of vanilla extract
• Dash of cinnamon
Mix ricotta, milk, sweetener, vanilla and rinds together.
Top with cinnamon.
Sources:
"Transform Easter Leftovers - DeAnn Owens – DaytonDailyNews.com." Dayton Daily News. Web March 29 2013.
http://www.daytondailynews.com/news/entertainment/recipes-transform-easter-leftovers/nW3P6
"Easter Candy Leftovers: How To Reuse Peeps, Chocolate Bunnies And More – Huffingtonpost.com." Huffington Post Green. Web March 29 2013.
http://www.huffingtonpost.com/2012/04/09/easter-candy-leftovers-peeps-chocolate-bunnies_n_1413208.html?ref=tw#s854310&title=1_Donate_It
Joanne Sgro-Killworth is a Television Fitness Expert, Certified Personal Trainer and Sport Nutritionist. She is Certified in Pilates, Pre-natal/Post-Partum, Yoga and Senior Fitness. She specializes in Weight Loss, Post-Rehab and Post Cancer Training.
Joanne's fitness plans and recipes are available globally on her website www.fitnessanswer.com/ She resides in the Phoenix, AZ area with her husband and son, where she runs her personal training business, Fitness Answer, LLC.
Reviewed April 1, 2013
by Michele Blacksberg RN
Edited by Jody Smith