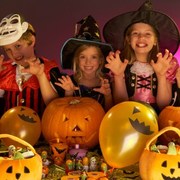 Photo: Getty Images
Halloween is almost here and that means fun costumes, pumpkins and, of course, candy! It is also a lesson in self-control when trying to limit your intake as well as your children's candy consumption.
There are some things that you can do to prepare yourself for this pound-packed holiday. For one, don't buy your candy until that day and only buy enough to give out and not to pig out.
Choose wisely when purchasing candy. The Center for Disease Control, (CDC) recommends these guidelines when expecting trick-or-treaters or party guests, "Provide healthier treats for trick-or-treaters such as low-calorie treats and drinks. For party guests, offer a variety of fruits, vegetables, and cheeses."
Raisins, Craisins and small bags of trailmix are excellent candy alternatives. There are also mini-granola bars or protein bars which can be found in bulk at many warehouse stores.
The good news about trick-or-treating is that while you and the kids cover the neighborhood, you are also burning calories walking. If indoors hosting a party, KidsHealth.org suggests to, "use party games and trick-or-treat time as an opportunity for kids to get their daily dose of 60 minutes of physical activity." My suggestion is to play games like mini-pumpkin relays in the backyard or pumpkin bowling, knocking down plastic cups.
According to KidsHealth.org, "Consider being somewhat lenient about candy eating on Halloween, within reason, and talk about how the rest of the candy will be handled. Candy and snacks shouldn't get in the way of kids eating healthy meals."
Limit your portions by buying the miniature, snack size. Each one of them weighs in at approximately 38 calories and five grams of carbs.
From miniature to fun or snack size which is the Halloween staple, Fitsugar.com has broken down the calories of some trick-or-treat favorites:
One fun size Babe Ruth bars has about 85 calories and ten grams of carbs.
A fun size Kit Kat has 73 calories and nearly 7 grams of carbs, while a Milky Way has 76 calories and 11 grams of carbs.
Keep your fingers off of those Butterfingers at 100 calories and 10 grams of carbs.
Fruity, sugary candies, also rack up the calories according to FitSugar.com. Skittles, which fall into this category, have 80 calories and 15 grams of carbs.
Jelly Belly Jellybeans have 35 calories and 7 grams of carbs.
The fun size package of Nerds has 50 calories and 12 grams of carbs.
Party supply stores are an excellent source for Halloween alternative treats according to KidsHealth.org. They suggest candy-free items to give out on Halloween such as, "Non-food treats, like stickers, toys, temporary tattoos, false teeth, little bottles of bubbles and small games, like tiny decks of cards."
My advice is to limit the amount of candy both you and your kids get each day following the holiday. Freeze some of it and take it out only on Sundays as a treat. You may also want to donate or give some of it away.
Online References:
"Family Health - Halloween Health and Safety Tips. - CDC.gov." Centers for Disease Control. Web 24 Oct. 2011.
http://www.cdc.gov/family/halloween
"Healthy Eating Halloween Hints - KidsHealth.org." Kids Health Parent Nutrition Center. Web 24 Oct. 2011.
http://kidshealth.org/parent/nutrition_center/healthy_eating/halloween_hints.html
"Halloween Candy Breakdown – FitSugar.com." Sugar Inc. Web 24 Oct. 2011.
http://www.fitsugar.com/Calories-Halloween-Candy-Fun-Size-Treats-5452936
Reviewed October 25, 2011
by Michele Blacksberg RN
Edited by Jody Smith
Tags: