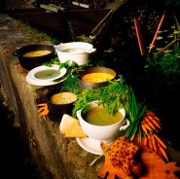 Photo: Getty Images
Fall is upon us and many of us are looking to warm up with a cup or bowl of soup. But many soups are laden with salt. High blood pressure, hypertension and a list of other health related issues can be attributed to too much salt in your diet.
Many Americans are becoming more food-shopping savvy and looking at the sodium content on labels in order to improve their health.
The USDA has slashed salt intake guidelines dramatically this year advising that, "No one should consume more than 2,300 milligrams of salt per day. Those who are age 51 and older and those who are African American (almost half of the U.S. population) or have high blood pressure or chronic kidney disease, should consume no more than 1,500 milligrams per day."
The USDA goes onto say that one teaspoon of salt contains more than those daily recommended guidelines at 2,325 mg.
Oftentimes too much salt can lead to excessive water retention and bloating. According to today's New York Times Health Guide, "Too much sodium may lead to high blood pressure in those who are sensitive to sodium. If you have high blood pressure, your doctor will probably recommend that you reduce your sodium (salt) intake. Sodium may lead to a serious build-up of fluid in people with congestive heart failure, cirrhosis or kidney disease. "
Here are some my original recipes remaking some family favorites. I like to use Trader Joe's Low-Sodium Chicken Broth, which contains just 70mg of sodium per serving. Their Organic Marinara Spaghetti Sauce also only has 25mg of sodium per serving.
EASY ESCAROLE SOUP
• 1 package of frozen spinach thawed
• 1 xan of low-sodium chicken broth
• (2) 6 oz. cooked chicken breast, diced
• 8 oz. of lean ground beef
• 1 tsp. of Parmesan cheese
Form lean ground beef into tiny meatballs and cook thoroughly in olive oil in large skillet. Meanwhile in medium sized pot boil spinach in chicken broth. Add in cooked chicken breast, cheese and cooked meatballs. Let simmer about 10 minutes. Makes 3 servings.
EASY CREAM OF TOMATO SOUP
• (2) 8oz. can of diced tomatoes
• (1) 8oz. container of Greek yogurt
• Dash of pepper and garlic powder
Heat diced tomatoes in small saucepan until bubbly seasoning with garlic powder and pepper. Add cooked tomatoes and Greek yogurt to blender and blend until smooth.
SPAGHETTI AND BROCCOLI
• 1 pound of whole wheat pasta
• 1 jar of Organic Marinara Sauce from Trader Joe's
• 1 head of fresh broccoli washed and chopped
Steam broccoli until tender while simultaneously boiling pasta in separate pot. In another separate sauce pan heat up Marinara Sauce. Garnish pasta with broccoli in serving bowl and top with sauce.
Sources:
"New Sodium Guidelines – MedicalNewsToday.com." Medical News Today. Web 6 2011.
http://www.medicalnewstoday.com/articles/215214.php
"Sodium in Diet – Health.NYTimes.com." NY Times. Web 6 2011.
http://health.nytimes.com/health/guides/nutrition/sodium-in-diet/overview.html
Joanne Sgro-Killworth is a Television Fitness Expert, Certified Personal Trainer and Sport Nutritionist. She is Certified in Pilates, Pre-natal/Post-Partum, Yoga and Senior Fitness. She specializes in Weight Loss, Post-Rehab and Post Cancer Training.
Joanne's fitness plans and recipes are available globally on her website www.fitnessanswer.com. She resides in the Phoenix, AZ area with her husband, where she runs her personal training business, Fitness Answer, LLC.
Reviewed October 6, 2011
by Michele Blacksberg RN
Edited by Jody Smith
Tags: