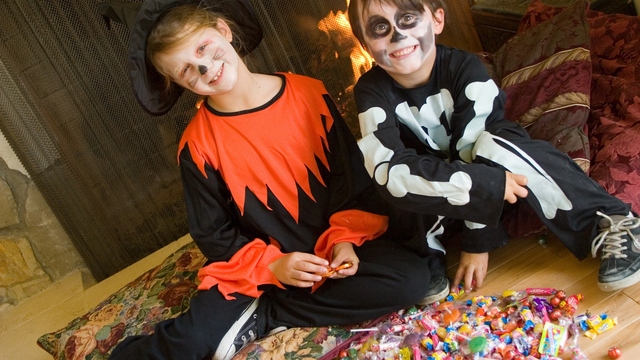 PhotoSpin/PhotoSpin
The amount of candy consumed on Halloween by both kids and parents can be downright shocking. Four percent of the candy consumed throughout the whole year is eaten at Halloween, USAToday.com,reported.
The days following can also be fearful, with an abundance of candy and Halloween treats haunting your house.
Taunts coming from your candy stocked cupboard days after Halloween can foil your good intentions of trying to eat healthy. Instead of fighting your temptations, grab a roll of aluminum foil and disperse them over time.
Out of sight is out of mind is what I say when it comes to candy, so sort and wrap your candy to create delicious recipes to share through the holidays and beyond.
Freeze your fears and label each foil concealed package for a future holiday purpose or project.
THANKSGIVING
Who doesn't love peanut butter and chocolate? Chocolate, peanut butter cups and small coated candies are a fabulous Thanksgiving dessert.
Don't trick yourself into thinking it is okay to eat an entire bag of this forbidden treat. Instead, make a dessert to share.
Here is my recipe for a Chocolate Peanut Butter Tiramisu.
• ½ cup of peanut butter
• ½ cup of mascarpone cheese
• 1 cup of light whipped topping
• Approx. 10 peanut butter cups
• ¼ cup of peanut butter, chocolate-coated candy pieces
Whip marscarpone cheese and peanut butter together, set aside.
Line bowl with peanut butter cups.
Fill dessert cup with alternating layers of peanut butter mixture and whipped topping. Top with small candies.
CHRISTMAS CRAFT
There is no need to hide in a "candy corner" consuming an entire bag of candy corns. FOXNews.com has an excellent idea, "Save the most colorful, candy-coated pieces for decorating gingerbread houses or use them to create an art collage with younger children by gluing them onto cardstock, homemade ornaments or picture frames."
HOLIDAY PARTY
Spread some cheer by using your fruit Starburst and Skittles for creative cocktail stations at your holiday party. Both Food.com and OneMartini.com have some excellent ideas for candy-infused vodka concoctions.
NEW YEAR'S EVE
Sometimes you feel like a nut ... Take one small Mini Mounds candy bar and add it to a whey protein shake made with almond milk. This is the perfect way to ease into your healthy New Year's resolutions.
VALENTINE'S DAY
Put the dark chocolate in a Valentine's vault and serve it alongside some fabulous red wine for a romantic dessert!
Sources:
"Halloween Candy Consumption – USAToday.com. USA Today. Web. 31 Oct. 2014.
http://www.usatoday.com/story/news/nation/2013/10/29/halloween-candy-consumption/3189537
"Trick or Treat – What to do with Leftover Halloween Candy – FOXNEWS.COM. FOX News. Web. 31 Oct. 2014.
http://www.foxnews.com/health/2013/10/30/trick-or-treat-what-to-do-with-leftover-halloween-candy
"Skittles Vodka – Food.com" Food Home of the Home Cook. Web. 31 Oct. 2014.
http://www.food.com/recipe/skittles-vodka-379166
"Starburst Infused Vodka - OneMartini.com." One Martini Web. 31 Oct. 2014.
http://onemartini.com/starburst-infused-vodka
Joanne Sgro-Killworth is a Television Fitness Expert, Certified Personal Trainer and Sport Nutritionist and Publicist. She is Certified in Pilates, Pre-natal/Post-Partum, Yoga and Senior Fitness. She specializes in Weight Loss, Post-Rehab and Post Cancer Training.
Joanne's fitness plans, recipes and lifestyle advice are available globally on her website http://www.happiwoman.com/ She resides in the Phoenix, AZ area with her husband and son, where she runs her fitness and publicity business, JSK PR, http://www.jskpr.com/
Reviewed November 3, 2014
by Michele Blacksberg RN
Edited by Jody Smith
Tags: