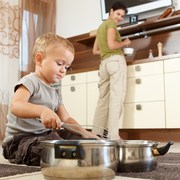 MonkeyBusiness Images/PhotoSpin
Fall routines are in full swing, and you may be finding it difficult to keep you and the family fed. That is, without a visit to the drive-thru or calling pizza delivery.
If you think frozen instead of fast, you will have a meal in minutes whether it is for breakfast lunch or dinner.
When it comes to fruit, consider keeping frozen varieties on hand. LiveStrong.com says that while fresh is always best, frozen keeps longer.
"If not eaten right away, fruit begins to undergo chemical and physical changes that result in discoloration and spoilage. Freezing is a beneficial process that stops this deterioration process, preserving the fruit."
The website FruitsandVeggiesMatters.org agrees saying, "Frozen fruits are harvested at their peak and frozen within hours, so are very close to 'just-picked' nutritionally. They are economical, cleaned and ready to use!"
The website has some tips in terms of choosing the best quality fruits and veggies. "Choose bags where the fruit is still in individual pieces. If they have become a solid block, this may indicate some thawing and refreezing."
Most stores also carry organic frozen fruits, as well. For breakfast I like to throw frozen blueberries and strawberries into a protein shake for a quick breakfast.
You can also sneak in some frozen veggies such as kale to get in some essential greens. Speaking of veggies, frozen varieties are really helpful for last-minute healthy soups.
You can add these to low-sodium broth. Nutritious and delicious is on the table in a flash. This is a wonderful lunch or dinner option as we head into the colder months.
Frozen seafood is often also a healthier alternative than fresh seafood for both you and the environment.
According to Ocean.NationalGeographic.com, "Fresh fish has to be shipped by air to reach most consumers; frozen can be freighted by ship, rail, or truck with significantly lower environmental impact."
You also do not have to worry about waste as many frozen fish comes individually packed. Fish cooks up quick on the stove-top or can be baked or broiled for a last minute meal.
My advice is to rethink your family's food options and head to the freezer, before you grab your keys or pick up the phone for a quick meal.
Online References:
"Frozen Fruit Benefits - LiveStrong.com." Live Strong. Web 23 October 2012.
http://www.livestrong.com/article/465249-frozen-fruit-benefits/#ixzz2A6Q9LTmQ
"Frozen Fruits – FruitsandVeggiesMoreMatters.com." Fruits and Veggies More Matters. Web 23 October 2012.
http://www.fruitsandveggiesmorematters.org/frozen-fruit
"Frozen Seafood Benefits – OceanNationalGeographic.com." Ocean National Geographic. Web 23 October 2012.
http://ocean.nationalgeographic.com/ocean/take-action/frozen-seafood-benefits
Joanne Sgro-Killworth is a Television Fitness Expert, Certified Personal Trainer and Sport Nutritionist. She is a Studio trained and Certified Pilates Instructor as well as holds certifications in Pre-natal/Post-Partum Exercise, Yoga and Senior Fitness. She specializes in Weight Loss, Post-Rehab and Post Cancer Training.
Joanne's fitness plans and recipes are available globally on her website www.fitnessanswer.com. She resides in the Phoenix, AZ area with her husband and son, where she runs her personal training business, Fitness Answer, LLC.
Reviewed October 24, 2012
by Michele Blacksberg RN
Edited by Jody Smith