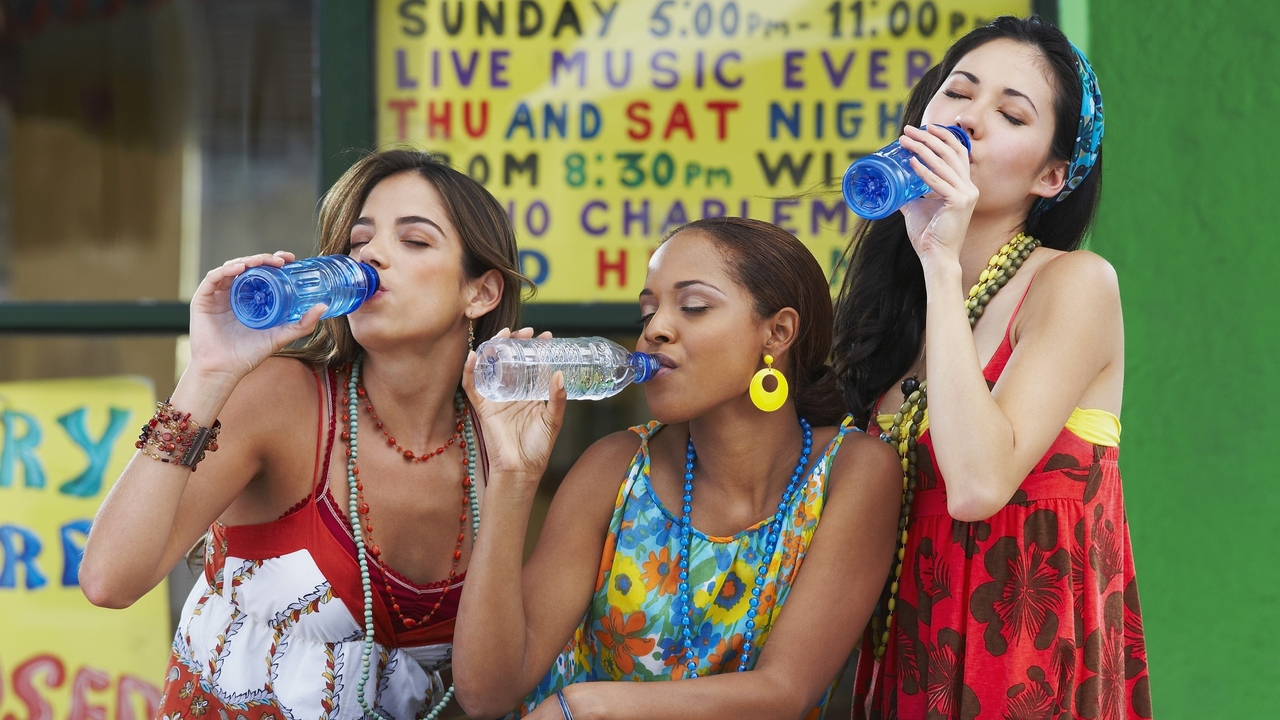 PS Productions/PhotoSpin
It appears many-so called healthy Americans could have a drinking problem, and we're not talking alcohol nor soda.Nostalgically recalling long-ago cues from mom, they are not only taking their vitamins, they are also drinking them. Drinking them in excess, that is.
And companies are answering their demand for vitamin-enhanced beverages. According to a recent article in The New York Times, "Today more than ever, studies show, the average person is exposed to unusually high levels of vitamins and minerals."
This health kick trend could be giving consumers a boost in an unhealthy direction. A study looking at the health implications of food fortification and supplement use was published by the National Institutes of Health.
"Many foods and beverages are increasingly being fortified with single or multiple vitamins and minerals. Consequently, nutrient intakes are exceeding the safe limits established by the Institute of Medicine."
Another recent study featured on the National Institutes of Health website also looked at the claims made on the labels such as "promoting performance and emotional benefits." There is little evidence that we're actually benefiting from the micronutrients these products usually contain.
Study officials from the University of Toronto essentially say we get enough vitamins and minerals from the foods we eat, and the added drinkable vitamins are not necessary.
Valerie Tarasuk, the study's lead author and a nutrition science professor in the faculty of medicine at the University of Toronto was quoted in an article on NYTimes.com.
"In nature, there are checks and balances that prevent overconsumption of vitamins and antioxidants, she said. It is hard to ingest too much niacin, for example, by eating whole foods like mushrooms, fish or avocados."
Experts say that overconsuming certain types of vitamins can affect liver function. Some water-soluble vitamins like B and C are excreted in the urine when too much of them has been consumed. But this is not the case with fat soluble-vitamins like A, D, E and K . Instead they can pose health hazards as they accumulate in tissues.
Too much sugar is also found in some brands, cancelling out the efforts by some to use the vitamin-enhanced beverages to lose weight.
Sucrolose and aspartame are contained in some brands of vitamin water. The consumer may not realize that when they are ingested too much, these can cause gastrointestinal problems like diarrhea and nausea.
My favorite trick to enhance water naturally is slicing up fresh citrus such as lemons, limes, oranges and even grapefruits. Be sure to wash the skins thoroughly. Cucumber water is also especially refreshing, especially after a workout. I find it really quenches my thirst.
Sources:
"Are Vitamin Drinks Putting Our Health at Risk? – Well.blogs.NYTimes.com." The New York Times. Web. 26 Feb. 2015
http://well.blogs.nytimes.com/2015/01/30/are-vitamin-drinks-putting-our-health-at-risk/?ref=health&_r=1
"Food Fortification and Supplement Use - Are there Health Implications? - NIH.gov." Web. 26 Feb. 2015. National Institutes of Health.
http://www.ncbi.nlm.nih.gov/pubmed/25036360
"An examination of the nutrient content and on-package marketing of novel beverages - NIH.gov." National Institutes of Health.Web. 26 Feb. 2015
http://www.ncbi.nlm.nih.gov/pubmed/25577949
"Vitamin Water Health Facts LiveStrong.com." Live Strong. Web. 26 Feb. 2015
http://www.livestrong.com/article/460751-vitamin-water-health-facts
Joanne Sgro-Killworth is a Television Fitness Expert, Certified Personal Trainer and Sport Nutritionist and Publicist. She is Certified in Pilates, Pre-natal/Post-Partum, Yoga and Senior Fitness. She specializes in Weight Loss, Post-Rehab and Post Cancer Training.
Joanne's fitness plans, recipes and lifestyle advice are available globally on her website http://www.happiwoman.com/ She resides in the Phoenix, AZ area with her husband and children, where she runs her fitness and publicity business, JSK PR, http://www.jskpr.com/
Reviewed February 26, 2015
by Michele Blacksberg RN
Edited by Jody Smith
Tags: