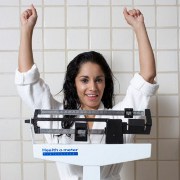 Photo: Getty Images
Having a support system while you are trying to lose weight is key in terms of measuring success. One organization that has been offering support to its members is Weight Watchers. Weight Watchers was started in 1961, when a Brooklyn housewife, Jean Nidetch decided to hold a weight loss support meeting in her home. Weight Watchers describes itself as "an integrated approach that combines smarter eating, healthy habits, exercise and a supportive environment."
Weight Watchers focuses on the "four pillars of health weight loss" to help keep its members on track. They are to Eat Smarter, develop Helpful Habits, Get Support and Move More. Weight Watchers has focused on this approach not only in their thousands of meetings held internationally each week, but also in their online program.
One of the key factors of their success is their online tools which help keep participants accountable. The meeting participants can access the same tips and tools to help keep them on track between meetings. These interactive tools help make losing weight easier providing information at your fingertips on the plan as well as insight and ideas tailored specifically for you.
Weight Watchers believes that those who track their eating habits are more likely to succeed. The eTools provided to members, both online and who attend meetings, work specifically with their programs, such as their PointsPlus plan. The PointsPlus formula which, "takes into account how our body processes a variety of foods and breaks it down into a point numbering system inclusive of the percentages of fat, carbohydrates, fiber and protein."
This food tracker program allows members to track their point values while monitoring their daily food intake. The foods they like the most can be saved as favorites for more convenient tracking.
Weekly progress can also be tracked with your specific progress charts, graphs and statistics. Your weigh-in will be tracked each week, helping to keep you accountable. You can also track your measurements and keep motivated with your weight loss success. Monthly progress reports will also be available to you through these interactive tools.
At each stage of weight loss you are encouraged at your level with personalized tips. You will get a checklist of to-do's to keep you on track. You will get the appropriate articles and recipes for that stage as well. Encouragement is also provided to get you to the next level by giving you tips preparing you for what to expect in the next stage.
Eating situations such as where and what to eat are also covered with over 40-thousand food options. The plan provides 3,000 recipes encompassing all different types of dietary needs. Eating out and restaurant strategy is also addressed. There is also a recipe builder feature where you can makeover your favorite meal into a healthier version.
Fitness tips, suggestions and workouts are provided for each stage. The site consists of everything from strength training demos to salsa dancing. There is something for everyone in each stage. You have access to your plan everywhere, with applications for your mobile device through Weight Watchers Mobile. Specific social eating situations are addressed in the Instant Problem Solvers section with advice on what to do at lunch with the girls.
Online Reference:
WeightWatchers: http://www.weightwatchers.com/Templates/Gateway/Gateway_Home_2col.aspx?xp1=home&pageid=1058041 August 25, 2011
Reviewed on August 25, 2011
by Maryann Gromisch
Edited by Jody Smith
Joanne Sgro-Killworth is a Television Fitness Expert, Certified Personal Trainer and Sport Nutritionist. She is Certified in Pilates, Pre-natal/Post-Partum, Yoga and Senior Fitness. She specializes in Weight Loss, Post-Rehab and Post Cancer Training. Joanne's fitness plans and recipes are available globally on her website www.fitnessanswer.com. She resides in the Phoenix, AZ area with her husband, where she runs her personal training business, Fitness Answer, LLC.
Tags: