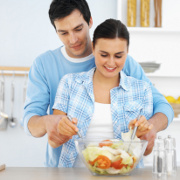 Photo: Getty Images
With celebrity success stories like actor/singer Jennifer Hudson, Weight Watchers has been on the forefront of dieters for as long as I can remember. With weekly meetings held in millions of neighborhoods internationally, it was also one of the first to jump into the online community to help keep its participants on track. Weight Watchers was started in 1961, when a Brooklyn housewife, Jean Nidetch decided to hold a weight loss support meeting in her home. According to Wikipedia.org, "The core philosophy behind Weight Watchers programs is to use a science-driven approach to help participants lose weight by forming helpful habits, eating smarter, getting more exercise and providing support."
Weight Watchers focuses on the "four pillars of health weight loss" to help keep its members on track. They are to "Eat Smarter," develop "Helpful Habits," "Get Support" and "Move More." Those systems working together is what I really like about the weight loss plan. Most importantly, I like the positive reinforcement and supportive environment online it also provides. One of their most popular plans is the PointsPlus formula which, "takes into account how our body processes a variety of foods and breaks it down into a point numbering system inclusive of the percentages of fat, carbohydrates, fiber and protein."
You are given a point value each day to stick to, but have the liberty of choosing from a variety of different foods and fantastic recipes. The recipes include everything from a healthy version of a Philly cheesesteak to a Tomato Pepper Lasagna. You are also given Power Foods of the utmost most nutritious choice, such as a banana or delectable recipe concoctions featuring those extra nutritious choices.
The choice aspect is what I find most attractive, because it gives you the accountability and freedom of controlling your own progress. It allows you to understand your own body and how certain types of foods will react and which ones allow you to experience the best results. I also like the fact that although Weight Watchers has their own line of food, it provides you with plenty of options outside their own products.
Like many other weight loss plans, ladies, if you want to do this plan with your significant other, Weight Watchers has a specific online plan for men. Favorites like nachos, wings and pizza are included on this plan which I am sure will please your guy.
The online plan costs $5 a week or is discounted for signing up for a longer duration. You have access to your plan everywhere, with applications for your mobile device as well. The plan has thousands of recipes and is inclusive of workout advice and demos. Your progress will be tracked with personalized charts showing your stats. But, like most online plans, the accountability is still on you to keep track of your progress, make healthy choices, shop for healthy food choices and -- my personal favorite -- keep up your exercise activity level.
Online References:
"Weight Watchers From Wikipedia, The Free Online Encyclopedia" – Wikipedia.org Web. 11 Aug. 2011.
http://en.wikipedia.org/wiki/Weight_Watchers
"Weight Watchers Online" Weight Watchers.com Web. 11 Aug. 2011
www.weightwatchers.com
Edited by Jody Smith
Joanne Sgro-Killworth is a Television Fitness Expert, Certified Personal Trainer and Sport Nutritionist. She is Certified in Pilates, Pre-natal/Post-Partum, Yoga and Senior Fitness. She specializes in Weight Loss, Post-Rehab and Post Cancer Training. Joanne's fitness plans and recipes are available globally on her website www.fitnessanswer.com. She resides in the Phoenix, AZ area with her husband, where she runs her personal training business, Fitness Answer, LLC.
Tags: