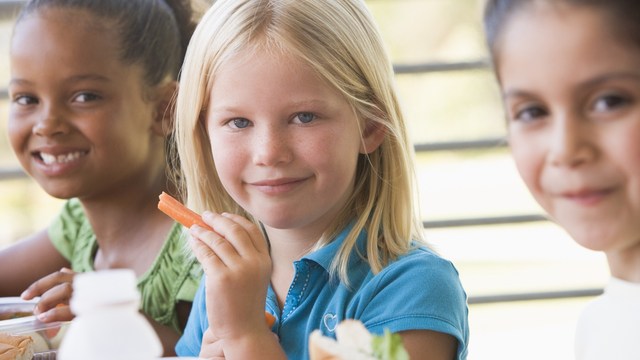 MonkeyBusiness Images/PhotoSpin
You start off the new school with good intentions, but it doesn't take long before packing creative and wholesome lunches for Johnny and Sue becomes a daunting exercise. Before long, you're feeling accomplished when you throw some PBJs and chips in a sack before mad-dashing your children out the door.
The key to filling a lunch box with nutritious foods essential for healthy growth and weight maintenance is a little planning, says Dr. Leila T. Beker, a registered dietitian with the FDA's Center for Food Safety and Applied Nutrition. She's also a mother and grandmother.
Beker advises to start the planning process by thinking about what fruits, vegetables, dairy, lean protein and whole grains for fiber your family will eat for the entire week so you can shop and have those wholesome foods on hand.
A big step toward a healthy lunch box is reading the Nutrition Facts label for sources of fats and sugars in the food. Some foods you might not expect are packed full of extra calories.
"You have to have a strategy for a healthy life, week by week," Beker says. "If that task is too daunting, start smaller by planning lunch for a day or two and progress from there. Then duplicate that meal plan for the next week and build on it."
Getting your kids involved in helping to pack their lunches and planning family meals helps them develop good habits that last a lifetime and takes some stress off you.
"If your approach to each day is to grab food on the go, that can become a problem. If you don't plan, you become a victim of convenient foods," she said.
Need some help in meal planning? MyPlate Kids' Place has recipes and meal-planning tips geared to different age groups. It also has advice on making healthy meals, cooking at home and developing healthy eating habits.
Studies show that children will eat more fruits and vegetables if you make them interesting, says Shirley Blakely, senior dietitian with FDA's Office of Nutrition, Labeling & Dietary Supplements.
She suggests giving kids fruits and vegetables they like and adding some dressing for dipping or cutting them into bite-sized pieces and fun shapes. Mixing unusual foods such as apples and peanut butter can help to keep kids interested.
Blakely says giving your kids a good variety of healthy foods will go a long way in helping them develop healthy habits.
Portion control is also an important part of meal planning. Kids need smaller portions so think in terms of quarter-cups, tablespoons and half sandwiches, depending on your child's size, age and activity level.
Beker suggests cutting sandwiches in triangles, or use cookie cutters to make fun shapes and reduce the portion sizes. Consider serving finger foods that are easily grasped by little hands.
Need more inspiration? Check out Healthy School Lunches & Snacks by Parents Magazine.
Lynette Summerill is an award-winning writer living in San Jose,CA. In addition to writing for publications, she spends a questionable amount of her free time contemplating her relationship with mid-century modern design and watersports.
Sources:
4 Tips for Healthy and Stress-Free Lunchbox. Consumer Updates. FDA. Accessed 27 August 2014.
http://www.fda.gov/ForConsumers/ConsumerUpdates/ucm411663.htm
Lunch is Served: Health School Lunches & Snacks. Sally Kuzemchak, RD. Parents Magazine. Accessed 27 August 2014 at:
http://www.parents.com/kids/nutrition/lunch/healthy-school-lunches-snacks/#page=2
Reviewed August 28, 2014
by Michele Blacksberg RN
Edited by Jody Smith