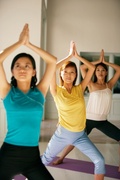 Photo: Getty Images
After a long hiatus I have begun doing yoga again, in a group setting. I am in a class with the same teacher, and some familiar fellow students. Yoga can be of great benefit when you are dealing with obsessive compulsive disorder or OCD. Almost all of us know about yoga's calming and therapeutic effect on the mind and the body. Doing yoga in a group setting is even more beneficial than doing it alone, in my opinion, because of all that harmonious energy circulating in the room.
I think yoga is particularly good for those of us who have a form of OCD involving hypochondria, because it focuses on the well being of the body, and not on a potential illness. Yoga's postures, also called asanas, are intended to make us stronger, more flexible, more resilient, and calmer. I feel so much better after a session of doing yoga, in ways that involve my physical, emotional and mental being. This is in strong contrast to the way I feel when OCD is rearing its ugly head. Not only is yoga an extreme form of distraction from obsessive thoughts, it is also an indicator to a path consisting of healthful living. It is in effect saying that this is what you should be concentrating on; making yourself stronger and less anxiety ridden, or more peaceful.
Every time anyone suffering from OCD does a session of yoga, that person should congratulate her or himself for spending time in such a beneficial manner. Yes, congratulate yourself, because it means that you are really trying to get better. And by improving your health, you indirectly improve the lives of those around you. In other words, a good way to help others is by taking care of yourself. Yoga is a way to help yourself.
Of course yoga is a wonderful practice for everyone, not just those suffering from a mental disorder. Everyone can enjoy the therapeutic nature of this ancient practice. It is not competitive, its practice can be tailored to meet each individual's needs, it benefits your internal organs as well, it is graceful, flowing and serene in nature. You do not need fancy equipments or expensive outfits. What is there not to like?