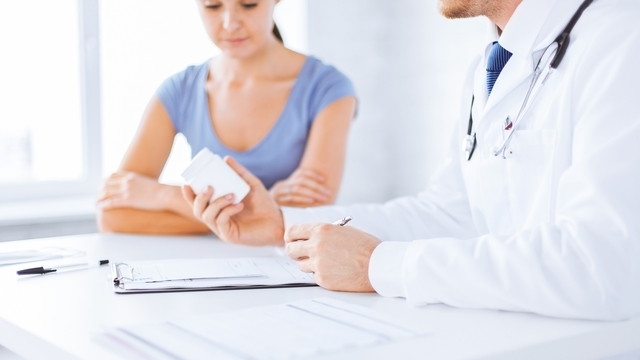 Lev Dolgachov/PhotoSpin
If you are one of the 20 million women who suffer from overactive bladder (OAB) it's the perfect time to talk to your doctor and stop living life on the edge.
I, too, suffer from OAB. I thought it was because I had two children from a vaginal birth. I felt as if I was always living on the edge ... wondering if and when I was going to have to make a mad dash for the bathroom.
Every time I would go to a restaurant or public place, I was sure to get the lay of the land by scoping out the nearest restroom. I experienced not only a mild case of incontinence, but also the frequent urge to urinate.
Road trips became a hassle and my frustrations mounted with every dirty public restroom I visited.
The good news is that there are ways to manage the symptoms of OAB.
Check out these three questions you otherwise might not think to ask your doctor about overactive bladder.
1) Can Botox treat the symptoms of OAB?
Yes. Botox is not just for wrinkles anymore. On January 18, 2013, the FDA approved the use of Botox to treat adults with overactive bladder who cannot use or do not adequately respond to a class of medication known as anticholinergics.
Having Botox injected into the bladder is a minimally invasive procedure and is done via cystoscopy. Cystoscopy is a procedure that allows the physician to visualize the interior of the bladder by inserting a hollow tube equipped with lenses into the urethra.
Botox is then injected in the bladder. The treatment is virtually painless and can last up to six months.
2) Are there things I can do at home to help relieve symptoms of OAB?
Yes. If you decide to opt out of medication or medical treatments for OAB, there are a few other alternatives.
One, limit the amount of fluid you consume during the day and limit beverages that irritate the bladder such as coffee and cola.
Secondly, try doing some pelvic floor exercises, more commonly known as Kegel exercises. Kegel exercises strengthen the muscles, which helps to prevent urine leakage. If you are unsure how to do them, ask your doctor for a referral to a pelvic floor physical therapist who can teach you.
Lastly, keeping an eye on blood sugar levels can help the symptoms of OAB. Having your sugar levels under control can reduce your risk of urinary incontinence problems.
3) Can menopause cause OAB?
Yes. Studies suggest that the lack of estrogen that occurs after menopause can affect urination. (3) Levels of the female hormone estrogen drop significantly during and after menopause.
Estrogen is needed to keep the bladder and the urethra healthy, and the decrease in estrogen from menopause can cause urinary incontinence and a weakening of the pelvic muscles.
Sources:
1) What is Overactive Bladder (OAB)? Oxytrolforwomen.com. Retrieved Dec. 3, 2014.
http://www.oxytrolforwomen.com/what-is-overactive-bladder.html
2) Incontinence & Overactive Bladder Health Center. WebMD.com. Retrieved Dec. 3, 2014.
http://www.webmd.com/urinary-incontinence-oab/womens-guide/bladder-contr...
3) Treatment Options for Overactive Bladder. WebMD.com. Retrieved Dec. 3, 2014.
http://www.webmd.com/urinary-incontinence-oab/overactive-bladder-treatme...
Reviewed December 4, 2014
by Michele Blacksberg RN
Edited by Jody Smith