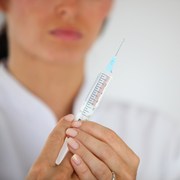 Auremar/PhotoSpin
On January 18, 2013, Allergan, Inc. made the announcement that BOTOX® (onabotulinumtoxinA) has been approved by the FDA to treat overactive bladder for adults who cannot tolerate anticholinergic medication, or who do not have an adequate response to such medications.
Scott Whitcup, M.D. is Allergan's Executive Vice President, Research and Development and Chief Scientific Officer. Whitcup said, "We are proud to bring the seventh medical use of BOTOX® in the United States to market. BOTOX® is the first neurotoxin to undergo formal clinical evaluation and receive FDA approval for a urological indication. This approval of BOTOX® is an important milestone in Allergan's commitment to develop and make available novel treatment options for urologists and their patients."
Overactive bladder, or OAB, involves urgent and frequent in urination, as well as urge urinary incontinence. Approximately 33 million American adults live with this condition.
While some with OAB use anticholinergics, more than half of these OAB patients stop taking these medications within a year because it does not adequately control their symptoms, or they cannot tolerate the medication.
Dr. Victor Nitti, Vice-Chairman, Department of Urology, NYU Langone Medical Center, was involved in the BOTOX® Phase III clinical trial program.
Nitti said, "When not adequately managed, urinary incontinence due to detrusor overactivity in patients living with MS (Multiple Sclerosis) or SCI (spinal cord injury) can lead to skin irritation, ulcers, pressure increases in the bladder that can cause kidney failure, as well as recurrent urinary tract infections."
BOTOX® injections in the bladder muscle via cystocopy can relax the bladder, making for greater storage capacity and decreasing the frequency of urinary incontinence. Cystoscopy makes it possible for a doctor to see the inside of the bladder during the injection.
Two clinical trials of 1105 patients with OAB have established the safety and efficacy of BOTOX® when it was administered randomly to patients in injections of 100 units of Botox (20 injections of 5 units each) or placebo.
After 12 weeks, patients who received BOTOX® experienced an average of 1.6 to 1.9 times less urinary incontinence per day and needed to urinate 1.0 to 1.7 times less often throughout the day. Their output of urine was 30 mL on average more than the placebo group.
Treatments should be at least 12 weeks apart.
There were side effects to the treatments, such as urinary retention, incomplete emptying of the bladder, pain upon urination and urinary tract infections.
Urinary retention, or incomplete emptying of the bladder, may require catheterization to resolve.
Patients with a UTI should not receive BOTOX® treatment.
Such patients need to be treated with antibiotics before BOTOX® treatment, during treatment and afterwards for a few days. This will reduce the risk of infection from BOTOX® treatment.
Sources:
Allergan: BOTOX® (onabotulinumtoxinA) Receives U.S. FDA Approval for the Treatment of Urinary Incontinence. Allergan.com. Retrieved Jan. 19, 2013.
http://agn.client.shareholder.com/releasedetail.cfm?ReleaseID=600958
FDA News Release. FDA.gov. Retrieved Jan. 19, 2013.
http://www.fda.gov/NewsEvents/Newsroom/PressAnnouncements/ucm336101.htm
Botox Approved to Treat Overactive Bladder. Medscape.com. Retrieved Jan. 19, 2013.
http://www.medscape.com/viewarticle/777886
Reviewed January 21, 2013
by Michele Blacksberg RN