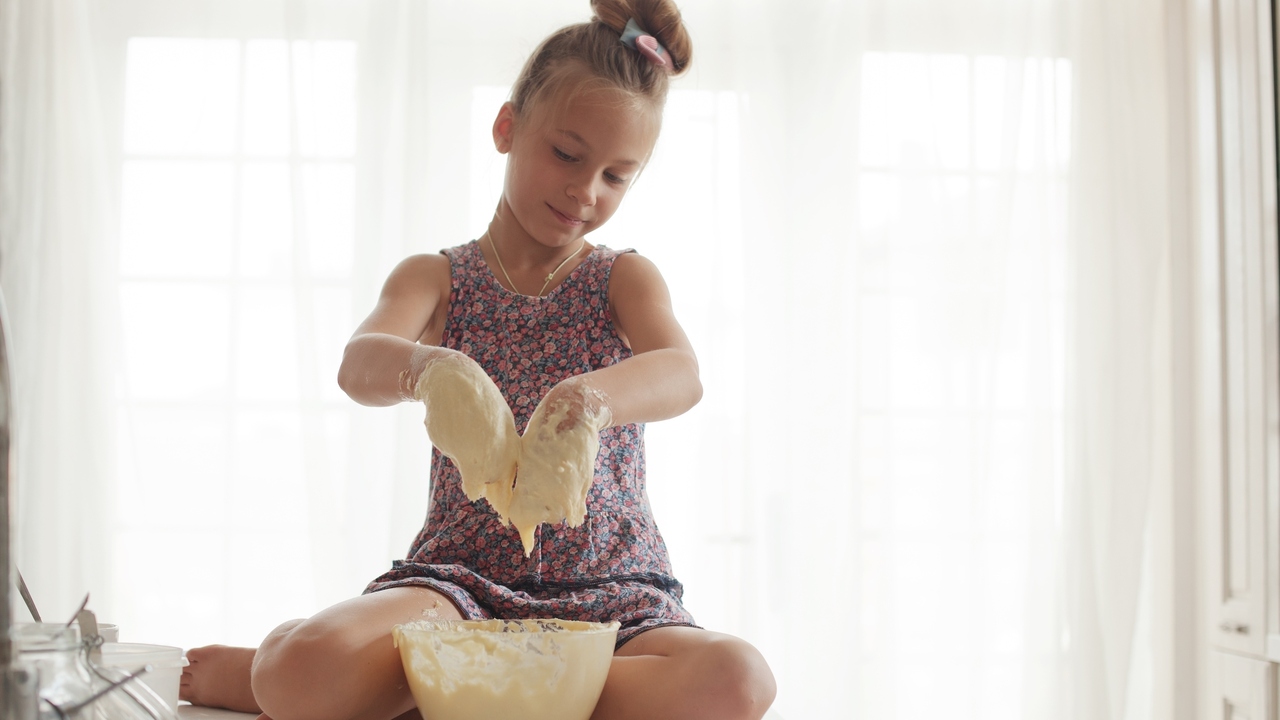 Alena Ozerova/PhotoSpin
Play is one of the most important things children do. In fact, it may be the most important thing they can do, because it helps them learn about and understand their world.
Research shows that children learn best when they engage their senses. Many adults can vouch for this. Some of our best memories are tied to one or more of our senses of touch, hearing and sight.
Give your children the opportunity to investigate materials with no preconceived expectations. In so doing you're helping them develop and refine their skill sets. Cognitive, creative, emotional, linguistic, physical, and social abilities can all become heightened, experts say.
Most children I know (and adults for that matter) can't deny the joy derived from playing with soft and squishy toys, but some parents worry about the ingredients manufacturers use to create them.
Why not create your own at home for mere pennies?
Here's how:
Katie at LiveCraftEat.com provides an inexpensive recipe for homemade flubber. And the best part is, you probably have the simple ingredients in your home right now.
On her website, Katie says that after mixing the concoction together, "it turns into this smooth elasticy substance that I can't quite describe – though it does remind me a lot of 'B.O.B.' on the monsters vs. aliens movie!"
Let the kids get into the act by helping to knead the dough.
For a new spin on the traditional play dough, check out dōTERRA Blog's homemade Aromatherapy Play Dough scented with essential oils. Imagine orange-colored dough that actually smells like oranges! Keep the dough in the refrigerator for months of fun.
If your kids love to paint, try homemade salt and flour paint. The recipe comes from Rachelle Doorley at Tinkerlab, and consists of — you got it — salt, flour, water and food coloring!
The recipe makes enough non-toxic paint to fill three 2-ounce bottles. The result is paint similar to tempera. If you don't have craft bottles available, recycle empty condiment squeeze bottles from the pantry to store your paint.
Have a budding paleontologist in the family? Why not inspire his or her passion with some DIY dinosaur handle cups. Jenn Young at Endlessly Inspired says they are "ridiculously easy and inexpensive" to whip up. The process will require adult supervision, but an older child could certainly help. These would also make fantastic party favors.
Recycle empty toilet paper rolls, drinking straws, bottle caps, cardboard boxes, soda bottles, plastic bowls, oatmeal canisters, egg cartons, water glasses, clothes hangers, and index cards around the house into musical instruments for kids. The founders of Music Moves Me can show you how to do it with easy step-by-step instructional videos.
Seriously, who doesn't love blowing bubbles? Anyone? I didn't think so — which is why this next idea is perfect for the entire family.
Stephanie at Twodaloo created DIY sparkling giant reusable bubbles with a few inexpensive household ingredients.
Simply whip up some Galaxy Slime using this recipe and follow Stephanie's simple detailed instructions. Wrap a blob of slime around a smoothie straw, and you and your kids will be blowing monster-sized bubbles in no time.
Get back to nature with eight gorgeous homemade wind chimes that kids can make. Jackie at Happy Hooligans says, "these chimes will inspire you and your kids to add a splash of color and whimsy to your backyard this spring." And the best part is it won't cost you a dime.
The secret? Make them with recyclables, items from nature, or things you already have.
What's more, Jackie says the projects are easy enough for preschoolers, but with some creative and ingenuity, older kids will also love to design and build their own amazing backyard whirly-gig.
Sources:
homemade flubber for kids. Livecrafteat.com.
http://www.livecrafteat.com/craft/homemade-flubber-for-kids
DIY: Aromatherapy Play Dough. Doterrablog.com.
http://doterrablog.com/diy-aromatherapy-playdough
Homemade Paint | Salt and Flour Paint. Tinkerlab.com.
http://tinkerlab.com/salt-and-flour-paint
DIY Dinosaur Handle Cups. Whitelightsonwednesday.com.
http://www.whitelightsonwednesday.com/diy-dinosaur-handle-cups
How to Make a Kazoo out of a Toilet Paper Roll. Howcast.com.
http://www.howcast.com/videos/501419-How-to-Make-a-Kazoo-Musical-Instruments
Play Recipe: Giant Reusable Bubbles. Two-daloo.com.
http://www.two-daloo.com/play-recipe-diy-gak-bubbles
Night Sky Activities for Preschool: Galaxy Slime. Two-daloo.com.
http://www.two-daloo.com/night-sky-activities-preschool-galaxy-slime-borax-free
8 GORGEOUS HOMEMADE WIND CHIMES FOR KIDS TO MAKE. Happyhooligans.ca.
http://happyhooligans.ca/homemade-wind-chimes-for-kids
Reviewed March 26, 2015
by Michele Blacksberg RN
Edited by Jody Smith