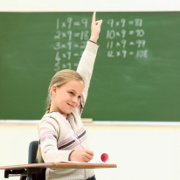 Photo: Getty Images
As a full-time teacher, I hear this question at least once a school year: "Do you think my child is gifted?" I am never quite sure how to begin my answer. Should I say, "Every child brings a special gift to the classroom," or "Did you know only about 5 percent of the population is intellectually gifted?" As I scan the internet, it is obviously a hot topic for parents. Indeed, my school district offers gifted testing to students as young as kindergarten. I always, without question, appreciate and understand when parents take an active interest in their child's education. Perhaps I should begin my answer with, "Do you know what is involved in gifted learning?"
When my nephew reached school-age he was enrolled in a magnet math and science school for the gifted. In the end, it was too much and too soon. He was sick a lot, cried even more, and worst of all, he lost his love of learning. In my own classroom I have seen both sides of the coin. There are students who enjoy leaving for the gifted teacher's classroom for one or more subjects and come back just as happy as they left. I have also witnessed gifted kids that panic when they are unable to find homework, cry when they don't earn an A+ in their gifted class, and have difficulty getting along with the other, non-gifted members of the class.
We all want to give our children the best shot at academic success. Teachers want every student to be interested and challenged and able to reach his or her full potential. If you have strong reason to believe that your student is a gifted learner, don't hesitate to talk to your child's teacher. However, putting your student through a battery of tests, just to see the score, is not a good idea either. Many alterations can be made in the regular classroom to ensure your child is challenged and not bored.
As a teacher and a mom, I encourage creativity and a life-long love of learning. When my son enters college this fall, I want him to remember what it is to show commitment and to inspire others, as those are his gifts. Suddenly, test scores don't seem so important. After all, not every successful individual in the world was once told he or she was gifted.
Helpful Resources:
http://www.gifteddevelopment.com/What_is_Gifted/learned.htm
http://www.nagc.org/
Reviewed July 14, 2011
by Michele Blacksberg R.N.
Edited by Alison Stanton