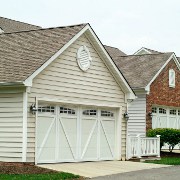 Photo: Getty Images
Some of us in America are having a ragingly hot summer. Many cities and states are seeing temperatures soar into the 90s and 100s, and there doesn't seem to be much relief. Many kids are forced to stay inside with air conditioning, if they are lucky enough to have it. I've seen many kids in our neighborhood hanging out in their attached garages, too, with a fan blasting and playing ring toss, corn toss, and ping pong. It's a way to be outside – but not too far outside.
However, garages aren't really a place for kids - certainly not for those under ten. There are many potential hazards in garages and here are five that prove garages are no place for young children:
1) Fun colored liquids: manufacturers of bottles filled with window washer fluids, anti-freeze and other chemicals use bright oranges, pinks, blues and greens to color the fluids. Often mistaken by children as sweet drinks, these chemicals can easily be accessed and swallowed, leading to poisoning and even death. A locked and secure cabinet (with a combination lock, rather than a key) can safely store these bottles, and other drinkable poisons. Paint thinners, gas, and other flammables need to be stored in airtight metal containers.
2) Summer gardening tools: while we huddled indoors in the winter, using only a snow-blower or skis/sleds from the garage, in the summer season gardening tools, saws, axes, rakes and other potentially deadly objects are often placed against walls due to frequent usage. Falling into little hands, this can lead to a deadly accidents waiting to happen. Many of these smaller objects can be locked away, but special attachments can be placed high up on garage walls in order to hold these large axes, saws or rakes securely in place, and far away from a child's reach.
3) The garage floor: small, shoeless feet love to run from their home, through the attached garage, and out to their garden or yard. But garage floors are sometimes filled with old nails, broken recyclables, and other potential hazards (including oil or grease) that can cause injured feet, hands and legs that may lead to serious infections, or falls. Sweeping out the garage frequently and making sure the floors are clear can help avoid these painful accidents that can ruin a child's summer.
4) Wiring: Many of us don't finish our garages. They're rough around the edges, with exposed drywall and sometimes exposed wires, fuses, and outlets, and these can severely shock, burn or choke a child. Having these typical garage hazards professionally fixed can save a family tragedy and for a relatively small amount of money.
5) The family car: we think our cars are reasonably safe from thieves when they're in our closed garages and we're probably right. Many of us don't even lock the car and that's a potentially deadly mistake. Cars in driveways and in garages should always be locked. It takes a few seconds for a child to enter a car to play, only to find themselves unable to get out. Garages can heat up to unbearable temperatures in summer, and the inside of a car is a deadly place for a child to get stuck. Get into the habit of locking your cars as soon as you get out, and keep keys away from kids. If you cannot find your child, always check your car.
Talk to your children about these hazards and teach them how to play responsibly. Lock anything dangerous away and keep the garage clutter free, including the floors. And remember that the fun places to play aren't always the safest. Especially if your garage is attached, talk to you children about never using it as a playroom.
Tell Us
Have you ever experienced an accident in the garage or come close to it? Tell us your story!
Edited by Shannon Koehle