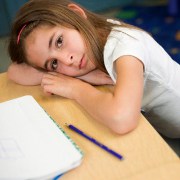 I can't forget the morning one of my fellow teachers became a target for a student's pink, projectile vomit. Earlier that morning, the young student awakened with an upset stomach but no fever or other symptoms. Mom gave her something pink to soothe her stomach and dropped her off at the bus stop.
I must say, if my child was showing no other signs of illness, I would have done exactly the same thing. So, how do we know if our child is too sick to attend school? After all, who hasn't sent their child to school with extra tissues and a water bottle?
If your student has the typical head cold — mild congestion, cough, scratchy throat — he or she may still be able to participate in school activities. Maybe your daughter had the sniffles last night but is now enjoying her breakfast, and doesn't seem to have slowed down any at home. Most likely, she is ready to face the classroom.
In a case like that, as a teacher, I always appreciate a note or email giving me a heads-up. That way I can remind my ill student to drink water, to wash hands after a good nose-blowing occurs, and to provide an extra hug. Check with your child's school in case the nurse can offer your sick child Tylenol or Advil during the day. Now, on the other hand, if your child was up all night coughing, he or she may need to stay home and take it easy.
Of course, never send a child off to school if he or she has a fever, or is nauseated, vomiting, or has diarrhea. Trust your parent radar. If your child is lethargic and not himself, he won't do well at school.
If you decide to send your child to school or back to school after an illness, check first with the school nurse. Schools have specific rules about when your child can mix with other students while sick. If your student comes down with something contagious like strep or pink eye, the school district may require he or she is on an antibiotic or fever-free, for at least 24 hours, before returning to the classroom.
You know your child best and you can make the best decision. Perhaps your student can chug through the day. Or maybe school can wait until tomorrow and today is a good time to stay in pajamas and watch cartoons.
Sources:
When is a Child Too Sick for School?. About. com. School-Age Children. Web. 29, Aug. 2011.
http://childparenting.about.com/od/healthsafety/a/sickschool.htm
When to Send Your Sick Child to School or Daycare. EL Camino Pediatrics.
Web. 29, Aug. 2011.
http://elcaminopediatrics.com/when-to-send-your-sick-child-to-school-or-daycare
Reviewed August 30, 2011
by Michele Blacksberg R.N.
Edited by Jody Smith