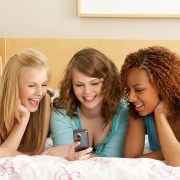 Photo: Getty Images
The majority of us pick up our cell phone and car keys before heading out the door. We take pictures when we are out socializing, and post them within seconds to a social media network. I knew when my son and his date had arrived at prom by the photos that appeared on his Facebook account. Unfortunately, all this access to social media has encouraged an unusual form of flirting known as "sexting".
In a 2008 survey of teens by the National Campaign to Prevent Teen and Unplanned Pregnancy, 22 percent of teen gals and 18 percent of teen boys responded that they had either sent or received a nude or semi-nude photo using a phone or other form of social media like Facebook. When asked if sending sexual images were considered "flirty" nearly 70 percent agreed while just 34 percent thought of the act as "immoral."
A challenging and ongoing part of parenting is to convince a child that he or she must make the right decisions about health and safety, even when mom or dad is not around. An impulsive teen won't think ahead before downloading a racy photo to a phone or social media page. He or she will not stop to think how that one embarrassing and personal photo may be forwarded or shared with hundreds of other strangers. I often remind my son that once you press the enter button, the control over your picture or your words is gone, and privacy is lost.
The National Campaign survey information also lists these suggestions to help monitor your teen in cyberspace:
• Be nosy. Ask your child what they do online, set expectations for behavior, and remind them of consequences.
• Know who your teen has befriended, both online and in actual life.
• Limit your teen's use of electronic media, just as you would set a curfew.
• Know what is on your child's social media profile page.
A recent article published by the Pew Research Center, noted that teens who paid for their own cell phones were much more likely to participate in sexting. Again, this shows the importance of monitoring and guiding our kids through cyberspace. Although this is another disturbing trend involving teenage impulsiveness, it can be handled with the same parenting skills we might use to discourage smoking or other risky behaviors. Keep talking to your child about internet etiquette and have that conversation often!
Sources:
http://www.thenationalcampaign.org/sextech/PDF/SexTech_Summary.pdf
http://pewresearch.org/pubs/1440/teens-sexting-text-messages?src=prc-latest&proj=peoplepress
Reviewed July 7, 2011
by Michele Blacksberg R.N.
Edited by Alison Stanton