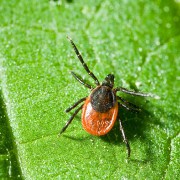 Photo: Getty Images
The Texas bluebell flowers are a sight to behold when they are in bloom. One summer, when my brother and his family lived near Austin, we had a chance to photograph my darling young niece as she sat and smelled the flowers. It was a fun outing that produced some classic photographs that we still treasure.
It was also the day we first learned how to remove a tick. Carolyn had dozed off during the ride home and as she was lifted into her crib, we spotted the partially engorged tick on the back of her neck.
Most tick bites do not cause infection, but some, depending on where you live, can cause serious illness. If you spot a tick on your child, immediately remove it, using tweezers. Afterward, wash your hands and the skin area where the tick was removed. If you are unable to get the tick out completely, contact your doctor. Save the tick in a plastic bag or jar and show it to your doctor if the child becomes ill. Watch your child for signs of illness such as rash or fever, and see a health care provider if these develop. Please check out http://www.cdc.gov/ticks/removing_a_tick.html for a detailed guide on tick removal from the Centers for Disease Control and Prevention.
Thank goodness my 2-year-old niece remained sound asleep through the entire tick removal. The biggest lesson I learned from this experience was: think prevention. After outdoor play, especially near wooded or grassy areas, check your kids for ticks. Look carefully in the tick's favorite hiding places like the scalp, neck, behind the ears, under the arms and inside little bellybuttons. Also check for ticks that might be clinging to clothing. Showering within two hours of outdoor activity may prevent an undetected tick from biting.
Wearing long sleeves and tucking long pants into socks is a good idea if hiking or playing in heavily wooded areas. If your child is above the age of 2, an insect repellent that contains DEET should do the trick. When applying bug spray, the CDC reminded parents to follow the directions on the package, apply carefully, avoiding a child's hands, eyes, and mouth. A little common sense prevention will go a long way towards enjoying a tick-free summer.
Sources:
http://www.cdc.gov/Features/StopTicks/
http://www.mayoclinic.com/health/first-aid-tick-bites/FA00062
Reviewed June 16, 2011
Edited by Alison Stanton