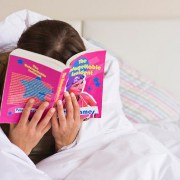 Photo: Getty Images
In early April, 2011, an article called "When Is Cosmetic Surgery an Answer to Bullying?" was published on the ABC News Health website. The plastic surgery news wires have been abuzz ever since as people react to the provocative title.
If you're like many parents, your first response to the question posed in the article's title is a resounding, "Never!" And for several good reasons.
First, plastic surgery is rarely the answer to anything but dissatisfaction with a physical feature. Think your breasts are frustratingly small? Breast augmentation might allow you to feel more content with your figure. But don't elect the procedure thinking you will have to fight off men if you're currently a wallflower.
Think your child's ears stick out too far? Otoplasty, the medical name for the surgery highlighted in the ABC article, can make ears lie flatter against the head. But will it help your son or daughter be popular or more confident? Or even stop the bullying? Maybe, maybe not. What if he or she gets harassed about having surgery?
One doctor quoted in the ABC article believes strongly that plastic surgery is not the solution. Cheryl Rode, of the San Diego Center for Children, commented that when it comes to bullying, "responsibility must lie with schools and other places where children are as well as with society." Indeed, bullying is increasingly recognized as a national problem. A January article in the online version of the Ladies' Home Journal asserted that, "Harassment is more common – and more serious – than most parents realize."
There's another point that makes sense to many parents: it's not a good idea to give your child the message that they can turn to a cosmetic or superficial fix to address a difficult, complex issue. Naturally, parents want their kids to be able to stand up for themselves, face tough problems head on and refrain from choosing a quick, convenient remedy.
For every one of these sound arguments, there's another point of view equally worth considering. Allowing for the very valid assertion that plastic surgery is not a "cure" for everything, many times it is an option that can improve form as well as function. This can be the case in cleft lip surgery, breast reduction for males as well as females, surgery to separate webbed fingers and so on. Many plastic surgery procedures that simply help people feel better about their looks are very well accepted by most people. Breast reconstruction is a great example.
It's safe to say that most people aware of the issue of harassment among youngsters feel that society must find answers to the problem. It's also a safe bet that plastic surgery for every child with a physical feature that looks a little different is not on the list of steps to take.
Indeed, If your child is being bullied due to ears that stick out or another feature, it's wise to separate the rude behavior from the physical condition. No one has the right to harass another person for any reason. There are messages you'll want to give your child centered on how to:
Boost self-confidence
Recognize what's really important about people
Develop positive relationships with others
Stand up firmly for themselves and their friends
Use humor strategically to diffuse confrontations
Get help in your mission from teachers, counselors, books and the Internet.
If the idea of otoplastyor another plastic surgery procedure for your child has crossed your mind, think it through carefully and talk it over with family. Ask yourself the following questions:
Can we address the bullying with healthy strategies that aren't related to plastic surgery (whether or not you choose surgery)?
Is my child old enough to understand that plastic surgery may help someone feel better about a specific body part but not solve other problems?
Am I working with my child to get underneath superficial concerns and appreciate important qualities in himself and others?
Is surgery a reasonable step my child might choose for herself when she's older? Would I choose it for me?
Whether or not other children are tormenting your child, considering otoplasty often throws parents into a quandary. It's not a simple decision. If you are leaning toward surgery, don't beat yourself up about it. Know that ear surgery is generally very safe and effective, and there's minimal pain and few risks associated with the procedure. Also know that if you choose otoplasty in part because your child is being bullied, your job is far from over.
Resources:
Carollo, Kim. "When is Cosmetic Surgery an Answer to Bullying?" ABC News Health. ABC News. 1, 2. April 4, 2011. Web. April 7, 2011.
Cool, Lisa Collier. "The Bullying Epidemic." Ladies Home Journal. 1, 2, 3. January 11, 2011. Web. April 8, 2011.