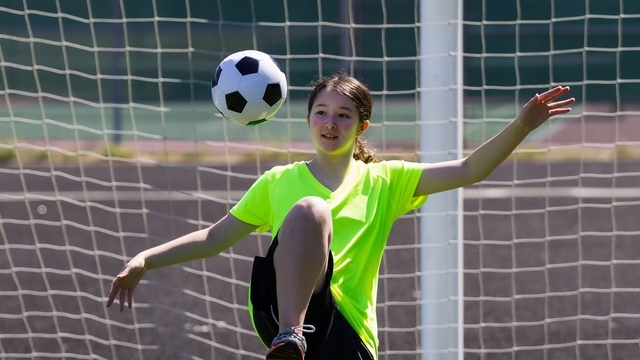 Tom Baker/PhotoSpin
An article on the alleged link between long-term exposure to the rubber pellets from artificial turf and incidents of non-Hodgkins lymphoma in soccer players, written by NBC News reporter Hannah Rappleye, has many parents and athletes concerned.
But is there any truth to the claims, or is this all fearmongering that will only serve to get people upset?
As I dug into this issue, I actually found very little corroborating information from FIFA, the United States Soccer Federation or Canadian Soccer Association, or any laboratory or test results that confirmed this supposed link.
Organizations like the Synthetic Turf Council, Consumer Product Safety Commission, and the EPA are sticking to their message that the use of the turf is indeed safe, although they also suggest that more testing and investigation is necessary.
Goalies More at Risk
The concern was raised after soccer coach Amy Griffin visited two young female goalies in hospital who were undergoing chemotherapy treatment for non-Hodgkin lymphoma.
A nurse's comment about having hooked up four female goalies for chemo set Coach Griffin on a quest to find out if there was in fact a reason for these young women all having cancer.
Coach Griffin found 38 American soccer players (34 of whom were goalies) who had been diagnosed with cancer. It is surmised that goalkeepers might be at increased risk because their bodies have the most contact with the artificial turf and run a greater risk of inhaling the small rubber particles or getting them embedded in scrapes and cuts.
Obviously, this data cannot be taken as uncontestable scientific proof of a connection, but it should lead us to wonder, and authorities to at least look into it.
Dr. David Brown was the author of a report published by Environment and Human Health, Inc. in 2007. He is the Public Health Toxicologist and Director of Public Health Toxicology for EHHI, and previously worked for the Centers for Disease Control and Prevention.
In his report, Brown stated that several chemicals contained in the tires from which artificial turf is made can cause skin and eye irritation, can be harmful if swallowed, and can be corrosive and destructive to mucous membranes.
One ingredient is also a recognized carcinogen, and can have harmful effects on several bodily systems. Metals such as zinc, selenium, lead and cadmium were also found.
It must be reiterated, though, that there is no available data on how these ingredients and exposure to these ingredients affect cancer rates. However, the question remains, if these are the kind of compounds making up artificial turf, would you want to be rubbing your face in it, like a goalie does?
Precautions for Players and Parents
As NBC reported, "One of the problems with researching the potential health hazards of crumb rubber fields is the sheer variety of materials used in the product. Tens of thousands of different tires from different brands may be used in one field." (3)
In response, FieldTurf Vice-President Darren Gill stated that the vulcanization process used in the fabrication of the turf renders the harmful ingredients inert.
Dr. Davis Lee, a Turf Council board member, warned that most every material in our world today will have some level and some form of chemical that might make people worry.
The NBC News article further warned that children could be most susceptible to any negative effect of long-term exposure to these compounds. Children's cells are dividing more rapidly than those in adults, and don't yet have a key DNA repair enzyme. Children's immune systems are also underdeveloped.
David Brown explained that cell division happens so much faster in children than in adults that there isn't sufficient time for the cell nucleus to repair itself from the invasion of a carcinogen into the cell.
Since artificial turf fields are so prevalent and seem to be used everywhere, it's important to reduce risks wherever possible. Such things might include:
• Requiring athletes to shower after being on the turf.
• Ensuring that athletes only wear their cleats on the turf.
• Making sure athletes do not wear the same clothes that they've worn to play on the artificial turf.
• Have soccer goalies practice somewhere other than on the turf, if possible (although learning to manage the ball and the body differs from grass to artificial turf)
• Keep very young children off turf fields. (3)
Sources:
1) How Safe Is the Artificial Turf Your Child Plays On? Rappleye, Hannah. NBCNews.com. Web. Accessed: Oct 23, 2014.
http://www.nbcnews.com/news/investigations/how-safe-artificial-turf-your-child-plays-n220166
2) Artificial Turf: Exposures to Ground Up Rubber Tires – Athletic Fields, Playgrounds, Garden Mulch. Environment and Human Health, Inc. Web. Accessed: Oct 23, 2014.
http://www.ehhi.org/reports/turf/health_effects.shtml
3) Former CDC toxicologist unsurprised by alleged link between artificial turf, cancer. Froh, Tim. Soccerwire.com. Web. Accessed: Oct 23, 2014.
http://www.soccerwire.com/news/a-level-of-risk-former-cdc-toxicologist-unsurprised-by-alleged-link-between-artificial-turf-cancer
Reviewed October 27, 2014
by Michele Blacksberg RN
Edited by Jody Smith