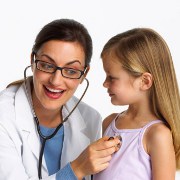 Photo: Getty Images
It's back-to-school time and, if you have children like I do, you need to form a relationship with the school nurse. It's the same for elementary school or even college and the school levels in between. I know. Getting to know the nurses and having them know me and my children has spared me a lot of anxiety and heartache, and you should put this activity on your list of priorities right now.
A relationship with the nurses can help you know when you need to pick up a child from school -- are they really sick? Or stay ahead of a chronic condition like asthma; or give you an early warning sign about school anxiety that needs to be checked further. I have lived this with my three kids. Just the other day, as my daughter started college far from home, we had a get-acquainted visit with a doctor at the student health service and a key nurse. I'd already talked to the nurse by phone several times. When we met in person the other day she gave me a warm welcome and, most importantly, assured my 18-year-old daughter, who has a chronic condition, that help and reassurance were just a phone call or email away. I was thrilled my laying the groundwork with the nurse had produced such a strong connection.
Whether you are a first-time mom or a seasoned veteran, the school nurse can be a best friend. To give you more details listen to an interview I did on the subject at: http://goo.gl/xpSD3 It will guide you on what you can do right now that will give you peace of mind later on and throughout the school year.
So be sure to get to know your child's teachers, and get to know the nurses too!
About the author: Andrew Schorr is a medical journalist, cancer survivor and founder of Patient Power, a one-of-a-kind company dedicated to bringing in-depth information to patients with cancer and chronic illness. Audio and video programs, as well as transcripts, help patients make informed decisions to support their health in partnership with their medical team. Patient Power is at www.PatientPower.info and on Facebook. Schorr is also the author of "The Web Savvy Patient: An Insider's Guide to Navigating the Internet When Facing Medical Crisis." http://www.websavvypatient.com/
Edited by Jody Smith