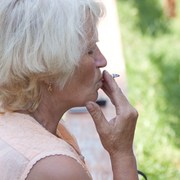 Taras Yakovyn/PhotoSpin
Increased tooth loss can be added to the list of health-related problems caused by smoking.
A study was carried out by the University at Buffalo (UB) which examined, for the first time, comprehensive smoking histories in relationship to tooth loss in post-menopausal women who smoked.
The research was published in the Journal of the American Dental Association.
The study reviewed smoking histories of 1,106 women who were part of the Buffalo OsteoPerio Study. The participants had been part of the "Women's Health Initiative, (WHI), the largest clinical trial and observational study ever undertaken in the U.S., involving more than 162,000 women across the nation, including nearly 4,000 in Buffalo," reported University of Buffalo News.
In the UB study, heavy smokers were found to have twice the likelihood of reporting tooth loss in general. They were more than six times as likely to have lost teeth from periodontal disease, compared to women who had never smoked.
Heavy smokers were defined as those who had smoked at least a pack a day for 26 years. Participants provided a detailed history of reasons for each tooth lost and in some cases dental records were reviewed.
Researchers also found that it didn't matter whether postmenopausal women increased flossing or brushed their teeth more often, they still tended to experience more tooth loss than men of the same age.
Interestingly, researchers "found that smoking was a less important factor in tooth loss due to caries," said Xiaodan (pronounced Shee-ao-dan) Mai, a doctoral student in epidemiology in the UB Department of Social and Preventive Medicine in the School of Public Health and Health Professions, as reported in Sciencedaily.com.
The study noted that previous research has suggested that chemicals in cigarette smoke may allow more plaque-forming bacteria to form in the mouth. This may increase the incidence of periodontal disease.
In addition to tooth loss, Mai pointed out, "Periodontal disease is a chronic, inflammatory condition that may be related to the development of cancer."
Last year, Science Daily reported on another study related to postmenopausal women and their need to increase yearly dental check ups to more than twice a year to monitor the occurrence of periodontal disease.
This research was carried out at Case Western Reserve University School of Dental Medicine and Cleveland clinic.
The small study compared 28 postmenopausal women with normal bones with 28 women who took bisphosphonate therapy to prevent and treat osteoporosis.
All the women were between 51 and 80 years of age. All had followed the ADA recommendation of brushing twice daily, flossing and having at least two dental checkups a year.
Originally the researchers intended to study the long-term effects of bisphosphonate therapies on the jawbone but found evidence of another health concern.
The researchers found both groups had "increased dental plaque levels, which could endanger the jawbone of normal postmenopausal women and reverse any benefits gained in bone mass," according to Sciencedaily.com.
This means that postmenopausal women who are at risk for osteoporosis but not taking bisphosphonates may be at even greater risk of jawbone loss and those taking these medications may just be keeping up.
Postmenopausal women need to take extra special care of their teeth, especially if they are smokers, to decrease the likelihood of tooth loss and to prevent and treat periodontal disease.
Increasing the number of dental visits a year may help prevent complications of dental disease.
Sources:
Postmenopausal women who smoked are more likely to lose teeth due to periodontal disease. Release Date: March 7, 2013. Web Mar. 9, 2013.
http://www.buffalo.edu/news/releases/2013/03/002.html
Postmenopausal Women Who Smoked Are More Likely to Lose Teeth Due to Periodontal Disease. Science Daily. Web Mar. 9, 2013.
http://www.sciencedaily.com/releases/2013/03/130301153643.htm
Message to Postmenopausal Women: 'Increase Yearly Dental Checkups,' Researcher Urges. Science Daily. Web Mar. 9, 2013.
http://www.sciencedaily.com/releases/2011/03/110310173210.htm
Mai, Xiaodan MBBS. Associations between smoking and tooth loss according to the reason for tooth loss. The Buffalo OsteoPerio Study. Web Mar. 9, 2013.
http://jada.ada.org/content/144/3/252
Michele is an R.N. freelance writer with a special interest in woman's healthcare and quality of care issues. Other articles by Michele are at www.helium.com/users/487540/show_articles
Edited by Jody Smith